Marketing
17 Best Inbound Marketing Blogs 2013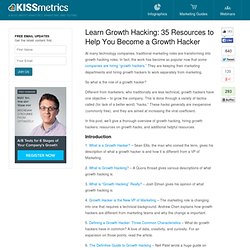 Learn Growth Hacking: 35 Resources to Help You Become a Growth Hacker
At many technology companies, traditional marketing roles are transforming into growth hacking roles. In fact, the work has become so popular now that some companies are hiring "growth hackers." They are keeping their marketing departments and hiring growth hackers to work separately from marketing. So what is the role of a growth hacker? Different from marketers, who traditionally are less technical, growth hackers have one objective – to grow the company.
5 Influence Platforms to Watch in 2013
When Was the Last Time You Conducted A Brand Audit?
Relationship Marketing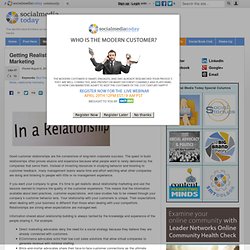 Good customer relationships are the cornerstone of long-term corporate success. The quest to build relationships often proves elusive and expensive because what people want is rarely delivered by the companies that serve them. Instead of investing resources in studying behavior and listening to customer feedback, many management teams waste time and effort watching what other companies are doing and listening to people with little or no management experience. If you want your company to grow, it's time to get realistic about relationship marketing and use the lessons learned to improve the quality of the customer experience. This means that the information available about best practices, customer expectations, and case studies has to be viewed through your company's customer behavior lens. Your relationship with your customers is unique.
6 Marketing Metric Mistakes to Avoid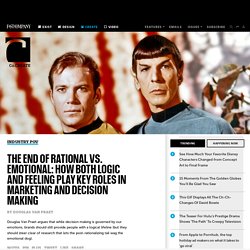 One of the longest-running debates in marketing is whether to use a rational or emotional advertising approach in marketing--but cognitive science says that argument is pointless. While emotions overwhelmingly drive behavior, it is misguided to believe that thinking and feeling are somehow mutually exclusive. Emotion and logic are intertwined. Behavioral science is now telling us that we don't really have "Free Will." We have "Free Won't." We can give in to the visceral impulses that drive us, or choose to apply the brakes of rational restraint.
The End Of Rational Vs. Emotional: How Both Logic And Feeling Play Key Roles In Marketing And Decision Making
We all have someone in our lives who talks a lot without really saying anything. It may be your poodle-obsessed mother-in-law, the neighbour who loves to yap endlessly about fertiliser, or the co-worker who drops by your desk several times a day just to say "hi." An attack by one of these Chatty Cathys can leave you distracted, exhausted, and annoyed. Unfortunately, customers can view companies in exactly the same light.
Teach Customers Why They Need A Product Before Trying To Sell It To Them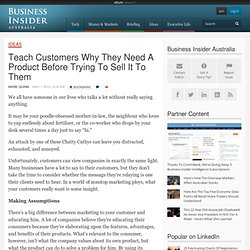 The Power of Third-Party Influencers | Inc. 5000
Why Originality is Overrated
by Brian Gregg and Vivian Weng | 9:00 AM March 22, 2013 The culture of "big" — big budgets, big campaigns, big reports — has driven marketing decisions and budgets for decades. But "big" is often cumbersome and slow. In an age when consumers decide within seconds whether or not to abandon a web site, big marketers need to act more like agile startups, maneuvering and adapting in real-time. We've seen large companies adopt a startup mindset and cut campaign development times by 50%.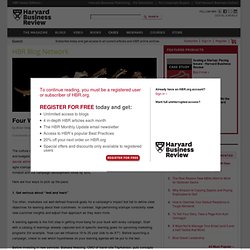 Four Ways to Market Like a Startup - Brian Gregg and Vivian Weng
How To Consistently Outsell Your Competitors
4 Ways to Know You're Selling to the Right Market
Rethinking Marketing Strategy For The Digital Age
Steve Jobs liked to say that it's not enough to kill bad ideas, you have to kill good ones too. That's because good strategy is about making choices and it takes more than intelligence or even instinct, it takes discipline, one of Jobs' most overlooked qualities. Marketing strategy is particularly difficult because, as I've noted before, the rules have changed. A generation ago, brands mostly strove to create buzz and "drive awareness," now they need to build compelling experiences that keep consumers engaged. However, the old tasks have not gone away. We still need to run TV ads and in-store promotions, man conference booths and hand out brochures, but now on top of that we have a whole new world of algorithms, apps and devices to master.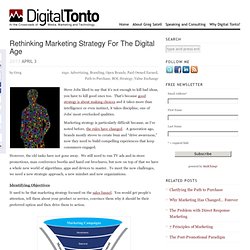 5 Tips for Surviving the Shark Tank | Inc. 5000
8 Ways to Lose Customers | Innovations in Piping Systems
By Mark Combs, Cre8iveDept.com I am sure you have heard the formula for gaining more customers, first let your customers KNOW you, get them to LIKE you, when they TRUST you, they will buy from you. Sounds simple but its not easy. There are many ways to achieve this Know Like Trust, and many way to lose it too.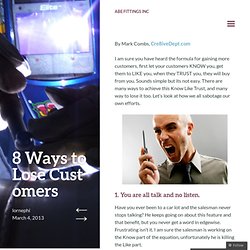 6 Ways to Be More Compelling | Inc. 5000
Behavioural Marketing
Image is everything, at least at first. Right or wrong, that first impression goes a long way in shaping how people feel about you until you impress them to think otherwise. You can feel successful people when they walk into a room.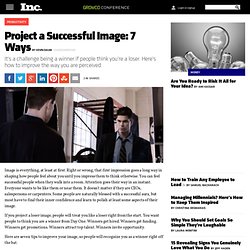 Projecting Image
10 Business Card Mistakes You Might Be Making
Everyone should have a business card, right? Whether you have a business, a nonprofit, a local organization or are looking for a new job, you need a way to leave people with important information. But most make big mistakes on their cards. Do you? To write this post, I grabbed ten random business cards from a stack I received last week. So you can see I didn't have to look far for examples.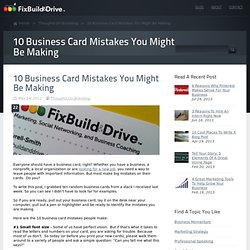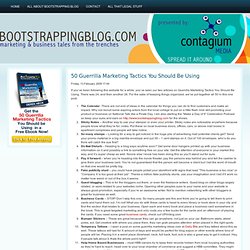 50 Guerrilla Marketing Tactics You Should Be Using Friday, 13 February 2009 17:44 If you've been following this website for a while, you've seen our two articles on Guerrilla Marketing Tactics You Should Be Using. There was 24, and then another 26. For the sake of keeping things organized, we've put together all 50 in this one post.
Different Types of Loyalty
Loyalty is defined as a strong feeling of support or allegiance. Companies fight for it because it correlates well to product sales. The Fabulous Five (Google, Amazon, Apple, Samsung, and Facebook) are waging a spectacular battle against each other to earn customer loyalty. A key to winning is to understand the types of loyalty. Professor Christie Nordhielm describes three types as part of her marketing strategy framework, The Big Picture:
Turn Around Tough Customers
Winning New Customers