GameWebsites
Home - thewitcher.com.
News. PS3 : News, Tests, Jeux PS3, Actu PlayStation 3 - Play3-Live.com. Gamespot. GameRankings - Video Game Reviews from around the Internet. GameFAQs. Gametrailers. PSPGEN. IGN. Tom'sGame. Gamekult. Jeuxvideo. Jeux video PC - Télécharger des jeux vidéo PC avec Metaboli. Heavy Rain. Quantic Dream would have you believe that Heavy Rain is not a videogame.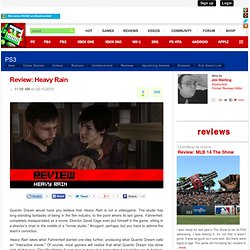 The studio has long-standing fantasies of being in the film industry, to the point where its last game, Fahrenheit, completely masqueraded as a movie. Director David Cage even put himself in the game, sitting in a director's chair in the middle of a "movie studio. " Arrogant, perhaps, but you have to admire the team's conviction. Heavy Rain takes what Fahrenheit started one step further, producing what Quantic Dream calls an "interactive movie.
"
---