Typography
Web Font Specimen. Web Typography: Educational Resources, Tools and Techniques - Smashing Magazine. Advertisement Web typography has evolved a lot over the last years.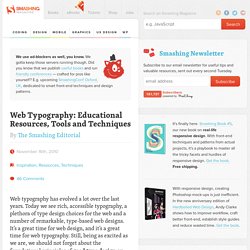 Today we see rich, accessible typography, a plethora of type design choices for the web and a number of remarkable, type-based web designs. Ask H&FJ: Four Ways to Mix Fonts. The Great Typekit Table – Sleepover. 29 principles for making great font combinations. By Douglas Bonneville on August 11, 2010 When it comes to making font combinations, there are principles and methods, but no absolutes.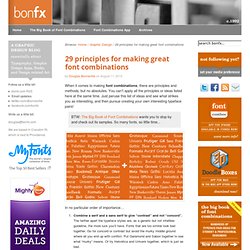 You can't apply all the principles or ideas listed here at the same time. Just peruse this list of ideas and see what strikes you as interesting, and then pursue creating your own interesting typeface pairs! BTW: The Big Book of Font Combinations wants you to stop by and check out its samples. So many fonts, so little time... Best Practices of Combining Typefaces - Smashing Magazine. Advertisement Creating great typeface combinations is an art, not a science.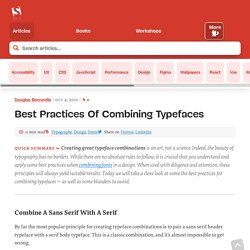 Indeed, the beauty of typography has no borders. While there are no absolute rules to follow, it is crucial that you understand and apply some best practices when combining fonts in a design. When used with diligence and attention, these principles will always yield suitable results.
---