Recipes
Get flash to fully experience Pearltrees
Okay, so our stock levels look pretty sad right now. Latest news now has us receiving the order after Easter.
BBQ pork or " char siu " (also spelled as "char siew") is a famous Chinese dish that everyone loves. Char siu (char siew) is of Cantonese origin where skewers of pork meat is marinated in a honey hoisin sauce, and then roast in oven to charred, savory, and sticky sweet perfection. If there is a pork recipe that defines Chinese cooking , I think char siu (char siew) would be it.
Recently, Alice and Jared of Eat A Duck I Must and I bonded over Penang street food as the cute couple just came back from Penang not too long ago.
This past weekend, our neighborhood Ralph was giving away free eggs–a carton of 18 large eggs.
If you love Rasa Malaysia, it's very likely that you love Asian food, and probably love Asian-style pastry.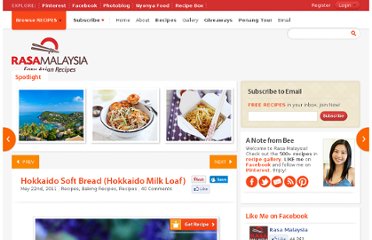 There is no denying that Japanese food is getting more and more popular across the United States. Once a niche ethnic cuisine, Japanese cooking has gone beyond sushi and teriyaki and has become mainstream. Walk down the aisle of many big supermarkets and you will find sushi, sashimi in Japanese bento boxes as eager shoppers and diners load them up in their shopping cart.
Recently, I am in love with sesame oil chicken (麻油鸡), a really homey and humble chicken dish that is both delicious and easy to make.
I've been eating lots of Indian food since I got home in Penang and it dawned to me that I don't have some of the most basic Indian recipes on Rasa Malaysia, such as naan—the much loved fluffy Indian bread.
Ingredients
Ingredients:
Since I started my cooking video, lots of people have requested a video for Jobchae.This dish is one of Korean's favorite traditional dishes.
For 4- 6 servings. Ingredients: Cooked rice a package of bean sprouts a bunch of spinach 2 small size of zucchinis 5-7 Shiitake mushrooms fern brakes (kosari) 200 grams of ground beef (about half a pound) 1 small carrot, eggs soy sauce , hot pepper paste , garlic, sesame seeds , sesame oil , and vegetable oil
The first time I had chai , I was in a small rented room in the Chungking Mansion in Hong Kong (notoriously cheap accommodations).
With winter storm dumping the snow, my brain needed some masala tea. Vijay , my dear husband, makes the best tea and he changes tea flavoring with seasons.