Mobile Gaming
Get flash to fully experience Pearltrees
Halfbrick game designers Joe Gatling and Adam Wood. Photo: Tony Moore Forget Fruit Ninja for a minute. The new word on the street is Jetpack Joyride and its hero Barry Steakfries.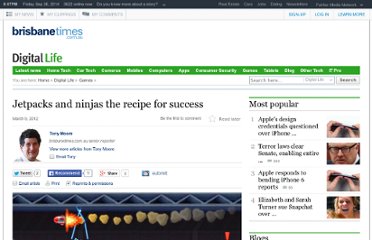 Back in January, we published an article on responsive design, " Responsive Web Design: What It Is and How to Use It ." Responsive design continues to get a lot of attention, but considering how different it is from the "traditional" way of designing websites, it can be a bit overwhelming for those designers who have yet to try it. To that end, we've compiled this round-up of resources for creating responsive website designs. Included are tutorials, techniques, articles, tools and more, all geared toward giving you the specific knowledge you need to create your own responsive designs. Responsive Design Techniques CSS Transitions and Media Queries Elliot Jay Stocks provides insight into the combination of CSS media queries and CSS transitions.
In your pocket right now is the most powerful "remote control" (as Drew Diskin put it ) that has ever existed. It is no ordinary remote control. It can harness everything that all of the previous mass media (television, radio, Internet, etc.) can do. People aren't using them just for simple entertainment or for phone calls.
According to AdMob, the iPhone operating system makes up 50% of the worldwide smartphone market , with the next-highest OS being Android at 24%. Sales projections for the Apple iPad run anywhere from one to four million units in the first year. Like it or not, the iPhone OS, and Safari in particular, have become a force to be reckoned with for Web developers.