Internet Marketing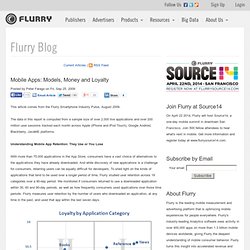 Mobile Apps: Models, Money and Loyalty
Mobile Apps: Models, Money and Loyalty Posted by Peter Farago on Fri, Sep 25, 2009 This article comes from the Flurry Smartphone Industry Pulse, August 2009. The data in this report is computed from a sample size of over 2,000 live applications and over 200 million user sessions tracked each month across Apple (iPhone and iPod Touch), Google Android, Blackberry, JavaME platforms.
Put an HTML form on your site in about 8 minutes No programming required. (Not even a little bit.) Designed for people who want HTML forms without learning HTML. Try us out before you spend hours banging your head on your keyboard because you can't get it to work. You have more important things to do with your time.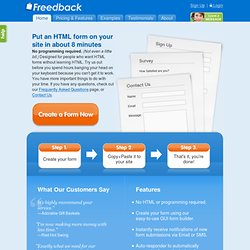 Quick & Easy Online Form Builder for HTML Forms | Freedback
Ruder Finn Intent Index - RFI Studios, Ruder Finn, Рудер Финн
Freelancer.com, a job outsourcing marketplace, has purchased the Warrior Forum for $3.2 million, according to TechCrunch. In an announcement to forum members, founder Allen Says stated that he started the Internet marketing forum in 1997 and it has grown to over 730,000 members. I've never been active over there, but I see that I joined […] The Affiliate Ball, the official party on the Monday of Affiliate Summit East 2014, has confirmed that Juicy J will be performing at the event.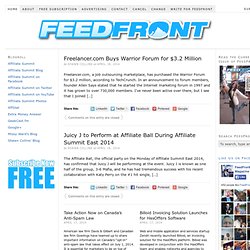 Affiliate Magazine — FeedFront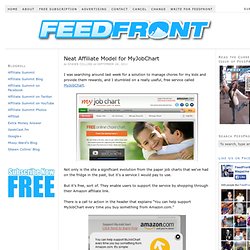 I was searching around last week for a solution to manage chores for my kids and provide them rewards, and I stumbled on a really useful, free service called MyJobChart. Not only is the site a significant evolution from the paper job charts that we've had on the fridge in the past, but it's a service I would pay to use. But it's free, sort of.
Neat Affiliate Model for MyJobChart
Startups « Boxed Ice Blog
Important Guidelines for ClickBank Vendors
Simple Email Service (Amazon SES)
Apple's Retail Secret: Full Service Stores
Steve Jobs turned Apple Inc. into the world's most valuable technology company with high-tech products like the iPad and iPhone. But one anchor of Apple's success is surprisingly low tech: its chain of brick-and-mortar retail stores. A look at confidential training manuals, a recording of a store meeting and interviews with more than a dozen current and former employees reveal some of Apple's store secrets. They include: intensive control of how employees interact with customers, scripted training for on-site tech...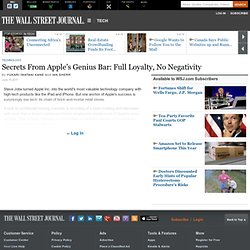 Excel Techniques For Sales