HTML5
BrowserQuest – a massively multiplayer HTML5 (WebSocket + Canvas) game experiment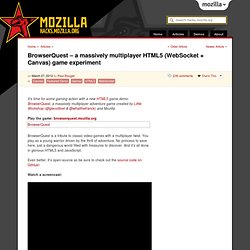 It's time for some gaming action with a new HTML5 game demo: BrowserQuest, a massively multiplayer adventure game created by Little Workshop (@glecollinet & @whatthefranck) and Mozilla. Play the game: browserquest.mozilla.org BrowserQuest is a tribute to classic video-games with a multiplayer twist. You play as a young warrior driven by the thrill of adventure. No princess to save here, just a dangerous world filled with treasures to discover. And it's all done in glorious HTML5 and JavaScript.
HTML Rel Attribute Values - HREF Relationship Values - Cheat Sheet
The Road to HTML 5: Link Relations Welcome back to my semi-regular column, "The Road to HTML 5," where I'll try to explain some of the new elements, attributes, and other features in the upcoming HTML 5 specification. The feature of the day is link relations. In this article: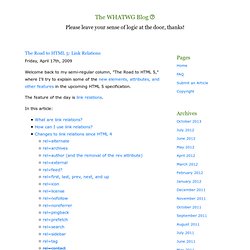 rel
Advertisement HTML5 and CSS3 have just arrived (kinda), and with them a whole new battle for the 'best markup' trophy has begun. Truth to be told, all these technologies are mere tools waiting for a skilled developer to work on the right project. As developers we shouldn't get into pointless discussions of which markup is the best. They all lead to nowhere.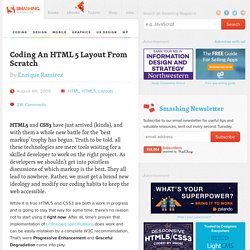 Advertisement It seems that new resources and articles for teaching and promoting HTML5 are popping up almost daily. We've been given HTML5 templates in the form of the HTML5 boilerplate and HTML5 Reset (although they both go beyond just HTML5 stuff).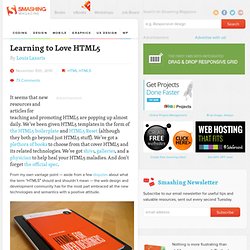 Search Results - InsideRIA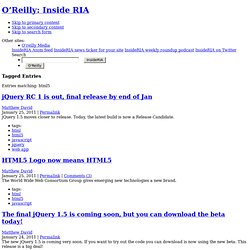 jQuery 1.5 moves closer to release. Today, the latest build is now a Release Candidate. The World Wide Web Consortium Group gives emerging new technologies a new brand. The new jQuery 1.5 is coming very soon. If you want to try out the code you can download is now using the new beta. This release is a big deal!