Game Design
Framed Ink: Drawing and Composition for Visual Storytellers (9781933492957): Marcos Mateu-Mestre, Jeffrey Katzenberg
Art and Design in Photoshop: How to simulate just about anything from great works of art to urban graffiti (9780240811093): Steve Caplin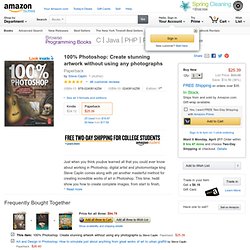 Product Description Just when you think you've learned all that you could ever know about working in Photoshop, digital artist and photomontage king Steve Caplin comes along with yet another masterful method for creating incredible works of art in Photoshop. This time, he'll show you how to create complete images, from start to finish, entirely within the software program. No source material, photographs, or existing files from other software packages are needed, saving you valuable time and resources. The techniques you'll learn in this ground-breaking new book will help you combine your artistic vision and skills with an understanding of how to manipulate the built-in Photoshop filters to produce impressive, eye-catching artwork.
100% Photoshop: Create stunning artwork without using any photographs (9780240814254): Steve Caplin
Directing the Story: Professional Storytelling and Storyboarding Techniques for Live Action and Animation (9780240810768): Francis Glebas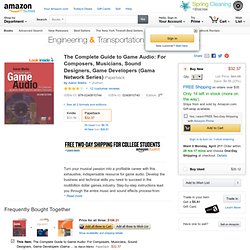 The Complete Guide to Game Audio, Second Edition: For Composers, Musicians, Sound Designers, Game Developers (Gama Network Series) (9780240810744): Aaron Marks
"Aaron Marks' The Complete Guide to Game Audio should be compulsory reading for anyone considering a career in game audio." Greg O'Connor-Read, Founder & Editor, Music4Games "Aaron's book is recommended reading in my USC and UCLA Composing Music for Video Games courses. It is a well-rounded presentation of what we video game composers do every day. Anyone wanting to know more about this great industry should start here!" Lennie Moore, Composer, Outcast, Dragonshard, War of the Ring, Dirty Harry
There have been many books in past years that were about creating 3D art, but none that I know of covered in depth how to make 3D art for video games. This book really fills a void and it is packed with knowledge for anyone who wants to become a video game artist.For those concerened as to what 3D program this book uses, it does not follow any one program. Rather, it teaches you game principles, techniques, and theories that can be applied to any program, which in my opinion is the strength of this book. Matt teaches you how to think like a game artist and presents you all the things you have to consider to become a successful artist in video games. In addition, the material is presented in a manner that is easy to read and really takes you through the process.The topics covered in this book are: Preparing to Create, Modeling Theory (very important!)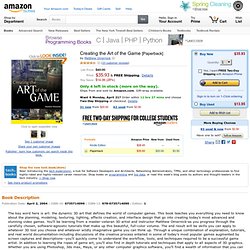 Creating the Art of the Game (0752064714095): Matthew Omernick
Game Development Essentials (9781111307653): Jeannie Novak
A Theory of Fun for Game Design (9781932111972): Raph Koster
The Art of Game Design: A book of lenses (9780123694966): Jesse Schell
Character Development and Storytelling for Games (Game Development Series) (9781592003532): Lee Sheldon
Rules of Play: Game Design Fundamentals (9780262240451): Katie Salen, Eric Zimmerman
Game Coding Complete, Third Edition (9781584506805): Mike McShaffry
I bought this book a little bit early, and had to go review my C++ before i could fully use it, and when I did, I came to realize that I was holding THE book on game coding. This book covers nearly everything, in that what the author doesn't cover (or one of the other guest authors) he gives you the next path you should go down in order to achieve your goals in that certain area of coding. He also offers tons of tips and inside stories on what it's like working as a game developer in a recurring section called 'tales from the pixel mines' which are all very informative, and i enjoyed reading all of them. Do not think, however, that this book will hold your hand throughout the process.
The Ultimate Guide to Video Game Writing and Design (9781580650663): Flint Dille, John Zuur Platten
Game Engine Architecture (9781568814131): Jason Gregory, Jeff Lander, Matt Whiting
AI Techniques for Game Programming (The Premier Press Game Development Series) (0082039541082): Mat Buckland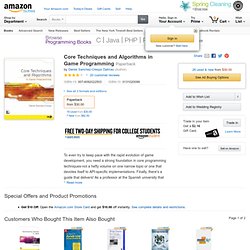 Core Techniques and Algorithms in Game Programming (0076092022503): Daniel Sanchez-Crespo Dalmau
From the Inside Flap "If you want to understand the fundamentals of programming concepts that underlie today's games, this book leads the way. It explores such a wide range of algorithms and concepts, it should be required reading for anyone entering the game programming field." --Alex Dunne, Executive Producer, Gamasutra.com "...brings together material from a variety of advanced gaming topics into a single well-organized book. Wish I had something like this to refer to when I was starting out."