Música
Family Guy: Top 10 Musical Moments. Since its inception, some of the funniest and most memorable moments on Family Guy have been the musical numbers.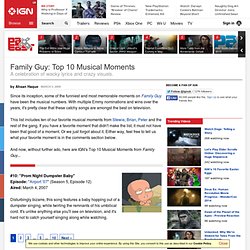 With multiple Emmy nominations and wins over the years, it's pretty clear that these catchy songs are amongst the best on television. This list includes ten of our favorite musical moments from Stewie, Brian, Peter and the rest of the gang. If you have a favorite moment that didn't make the list, it must not have been that good of a moment. Or we just forgot about it. Covering the Mouse. Support for Internet Exporer 6 has been discontinued - StumbleUpon. Jack Vidgen - Adele Set Fire To The Rain Cover - Australia's Got Talent 2011 WINNER - NEW 13/07/11. Aston. The Monster Symphony Music Video - Lady Gaga - Aston.
Born This Way - Lady Gaga - Classical Cover by Aston. Bulletproof - La Roux - Classical Cover by Aston. Someone Like You - Adele - Classical Cover by Aston.
---