Digital Scholarship
This is a note. Public Knowledge | Fighting for your digital rights in Washington. Online Tools and Reference. Welcome to FSCONS | FSCONS. 8, 9 & 10 November, Göteborg, Sweden FSCONS 2013 is over Thanks to everyone and see you in 2014!
EasyBib: Free Bibliography Maker - MLA, APA, Chicago citation styles. Creative Commons. Open Content/Creative Commons. Open Education. Open Culture. Open Content/Creative Commons. The web is dead, Its all about mobile… « Plenty of fish blog. In the last year POF has gone from having no mobile apps to 3 Billion pageviews a month on apps & 300 million visits and our mobile traffic continues to grow at 3% a week.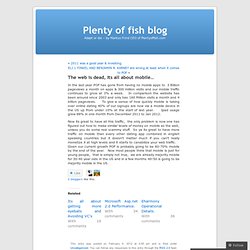 In comparison the website has been around since 2003 and only has 160 Million visits a month and 4 billion pageviews. To give a sense of how quickly mobile is taking over online dating 40% of our signups are now via a mobile device in the US up from under 10% at the start of last year. Square COO Explains Why The Web Is Dead. Wired Declares The Web Is Dead—Don't Pull Out The Coffin Just Yet. The Web is dead, or at least in decline, declares Wired editor Chris Anderson in the magazine's September cover story.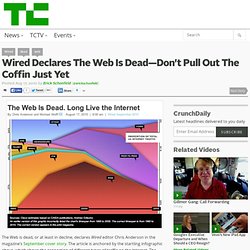 The article is anchored by the startling infographic above, which shows the proportion of different types of traffic on the Internet. The Web, HTML traffic visible though a browser, is only about a quarter (23%) of the overall traffic, down from about half a decade ago. It's been pushed down by peer-to-peer (23%), video (51%), and other types of apps which use the Internet for transport but are not browser-based. It's not clear what exactly Wired is counting as video, but presumably it is not all of the Flash video on YouTube which is very much part of the Web.
Setting aside whether Wired massaged the numbers to make its chart look pretty, Anderson's larger point is that increasingly we are consuming information via apps other than the browser. The Web Is Dead. Long Live the Internet | Wired Magazine. Who's to Blame:Us As much as we love the open, unfettered Web, we're abandoning it for simpler, sleeker services that just work. by Chris Anderson You wake up and check your email on your bedside iPad — that's one app.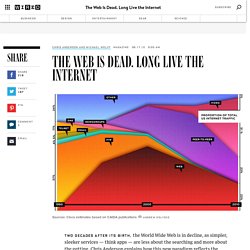 During breakfast you browse Facebook, Twitter, and The New York Times — three more apps. Libraries in the Digital Age (Lida) 2007 by Sanjica Faletar Tanackovic, Maja Krtalic. Researchers are not only relying more on libraries, but they seem to be reading more, according to Donald W King, distinguished research professor at the University of North Carolina (UNC)-Chapel Hill.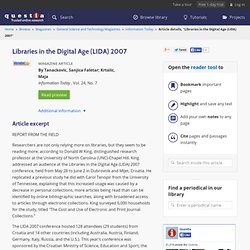 King addressed an audience at the Libraries in the Digital Age (LIDA) 2007 conference, held from May 28 to June 2 in Dubrovnik and Mljet, Croatia. He replicated a previous study he did with Carol Tenopir from the University of Tennessee, explaining that this increased usage was caused by a decrease in personal collections, more articles being read than can be identified by online bibliographic searches, along with broadened access to articles through electronic collections. Libraries, the Internet, and Scholarship: Tools and Trends Converging by Charles F. Thomas. Embracing digital scholarship (Create Change)
The opportunities and competitive demands of scholarship in this new environment are here to stay.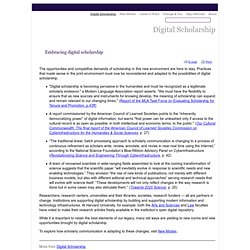 Practices that made sense in the print environment must now be reconsidered and adapted to the possibilities of digital scholarship: "Digital scholarship is becoming pervasive in the humanities and must be recognized as a legitimate scholarly endeavor," a Modern Language Association report asserts. "We must have the flexibility to ensure that as new sources and instruments for knowing develop, the meaning of scholarship can expand and remain relevant to our changing times.
" (Report of the MLA Task Force on Evaluating Scholarship for Tenure and Promotion, p.43ff)A report commissioned by the American Council of Learned Societies points to the "inherently democratizing power" of digital information, but warns "that power can be unleashed only if access to the cultural record is as open as possible, in both intellectual and economic terms, to the public.
" The Digital Scholar: How Technology Is Transforming Scholarly Practice. Digital Scholarship Reconsidered. In 1990 Ernest Boyer made an important contribution to the literature of higher education by authoring the book Scholarship Reconsidered: Priorities of the Professoriate.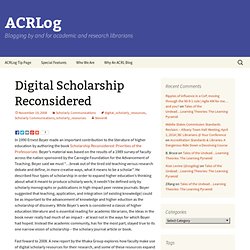 Boyer's material was based on the results of a 1989 survey of faculty across the nation sponsored by the Carnegie Foundation for the Advancement of Teaching. Boyer said we must "…break out of the tired old teaching versus research debate and define, in more creative ways, what it means to be a scholar". He described four types of scholarship in order to expand higher education's thinking about what it meant to produce scholarly work; it needn't be defined only by scholarly monographs or publications in high-impact peer review journals.
Boyer suggested that teaching, application, and integration (of existing knowledge) could be as important to the advancement of knowledge and higher eduction as the scholarship of discovery. Digital Scholarship in the Humanities | Exploring the digital humanities. The Digital Scholar - A Guide to the New World of Publishing for Independent Scholars, Academics, and Other Thought Leaders. The Digital Scholar: How Technology Is Transforming Scholarly Practice. Embracing digital scholarship (Create Change) Digital Scholarship Lab. Center for Digital Scholarship. Joseph RhodesDigital Repository Manager Joseph Rhoads is the Digital Repository Manager at Brown University.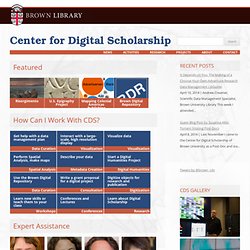 He oversees the development of the Brown Digital Repository (BDR) and supports its mission as "..a place to gather, index, store, preserve, and make available digital assets produced via the scholarly, instructional, research, and administrative activities at Brown". 2011 Summit Program | Digital Scholarship at Harvard. - khronosreview.com.
---