Mobile Devices
Anything But iPod MP3 Player Reviews. PoderPDA. RIM presenta en Mexico el blackberry 9360. Y es aquí donde RIM introduce en Mexico Blackberry Curve 9360 .
La gama Curve siempre ha sido vista como la gamma "baja" de Blackberry o como dicen en Estados Unidos: Y es que cuando lo comparamos con el , el cual puede ser visto como el "primo mayor" del Curve 9360, notamos que éste se queda corto haciendo algunos sacrificios en el aspecto del hardware en función de obtener el precio de gamma baja que tiene la linea Curve. Empezando por un procesador de en lugar de los de su primo mayor) o su pantalla de en lugar de la que porta el mencionado Bold 9900. BlackBerry Curve 9360 Review | YugaTech | Philippines, Technology News. The BlackBerry Curve is back and is now slimmer and sexier — the thinnest Curve there is.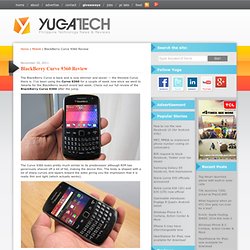 I've been using the Curve 9360 for a couple of week now since we went to Jakarta for the BlackBerry launch event last week. Check out our full review of the BlackBerry Curve 9360 after the jump. The Curve 9360 looks pretty much similar to its predecessor although RIM has generously shaved off a lot of fat, making the device thin. The body is shaped with a lot of sharp curves and tapers toward the sides giving you the impression that it is really thin and light (which actually works). The micro-USB port is at the left side of the handset while the 3.5mm audio port is at the top and aside from the lock button beside it, there's not much else ports or buttons on the device. BlackBerry Playbook Review | YugaTech | Philippines, Technology News. We're all too familiar with Android tablets and the iPad so when we were introduced to the BlackBerry Playbook with its own mobile operating system, we paused for a while to re-think the UI, navigation and over-all usability.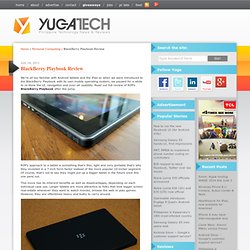 Read our full review of RIM's BlackBerry Playbook after the jump. RIM's approach to a tablet is something that's thin, light and very portable that's why they invested in a 7-inch form factor instead of the more popular 10-incher segment. Of course, that's not to say they might put up a bigger tablet in the future once this one pans out. This move has its inherent benefits as well as disadvantages, depending on each individual case use.
BlackBerry Curve 9360 : Caracteristicas y especificaciones | smartGSM. Review del LG Optimus One. Hoy el día va de reviews de teléfonos, primero analizamos el HTC Desire HD un smartphone para los más exigentes y para los que tengan bastante ahorrado =).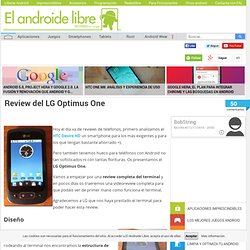 Pero también tenemos hueco para teléfonos con Android no tan sofisticados ni con tantas florituras. Os presentamos el LG Optimus One. Vamos a empezar por una review completa del terminal y en pocos días os traeremos una videoreview completa para que podáis ver de primer mano como funciona el terminal. Agradecemos a LG que nos haya prestado el terminal para poder hacer esta review. BlackBerry Torch 9860 and 9850 Features and Specifications. The BlackBerry 9850/60 has now been officially announced and we now have a a full specs list of the device.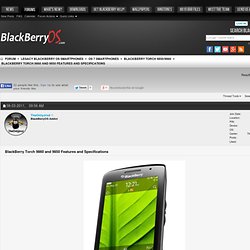 If this is a device you are considering to purchase, you might want to take a look at the full list of specs. Review del HTC Desire HD. ¿Aún no has leido la segunda parte de la review?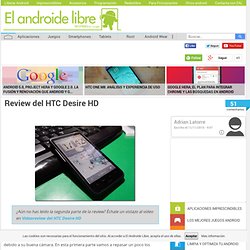 Échale un vistazo al vídeo en Videoreview del HTC Desire HD Hoy os presentamos uno de los teléfonos más deseados del momento. BlackBerry Torch 9850 / 9860 - Mobile Gazette - Mobile Phone News. Available now 3th August 2011 At first glance, the BlackBerry Torch 9850 and 9860 devices look like a standard black slabby smartphone that you might find running Android.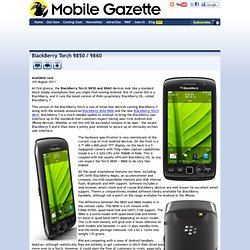 But of course this is a BlackBerry, and it runs the latest version of RIM's proprietary BlackBerry OS, called BlackBerry 7. This version of the BlackBerry Torch is one of three new devices running BlackBerry 7 along with the already announced BlackBerry Bold 9900 and the new BlackBerry Torch 9810. Review del LG Optimus 2x P-990. El LG Optimus 2X se presentó el pasado mes de febrero durante el MWC11 y causó una grata impresión entre la gente.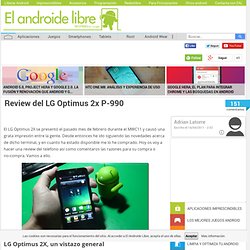 Desde entonces he ido siguiendo las novedades acerca de dicho terminal, y en cuanto ha estado disponible me lo he comprado. Hoy os voy a hacer una review del teléfono así como comentaros las razones para su compra o no-compra. Vamos a ello. LG Optimus 2X, un vistazo general. REVIEW: LG Optimus 7 (E900) En las manos - LG Optimus 7 (E900) Por fin Latinoamérica comenzará a contar con equipos que utilizan el flamante y último sistema operativo de Microsoft.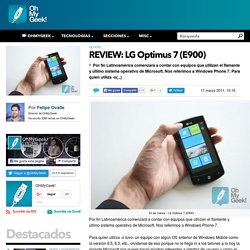 Nos referimos a Windows Phone 7. Para quien utiliza -o tuvo- un equipo con algún OS anterior de Windows Mobile como la versión 6.5, 6.0, etc., olvídense de eso porque no le llega ni a los talones a lo hoy la gigante Microsoft nos quiere hacer mostrar referentes a interfaz de usuario y cómo el contenido se debe presentar y utilizar por nosotros, todo en manos (en este caso) de LG gracias al Optimus 7; también conocido como E900. Personalmente, antes de entrar a características en sí, debo reconocer que esto (Windows Phone 7) es el renacimiento de Microsoft en equipos móviles.
LG Optimus Black review. If you asked us to design our ideal Android phone, it might well end up looking like LG's Optimus Black.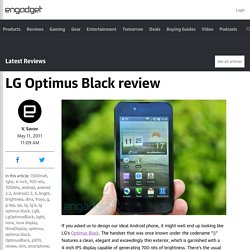 The handset that was once known under the codename "B" features a clean, elegant and exceedingly thin exterior, which is garnished with a 4-inch IPS display capable of generating 700 nits of brightness. There's the usual litany of added features, too, like a 5 megapixel shooter with the ability to record 720p video, a special G-Key for motion controls, and Wi-Fi Direct for peer-to-peer file transfers. Of course, looks and headline features are just the tip of the iceberg that is user experience, so if you want to know about the mountainous whole, join us after the break for a deep dive with LG's latest Android phone.
---