MASTER UOC
Get flash to fully experience Pearltrees
Version 1.3 - Final Specification - HTML IMS Transform and Examples
De MoodleDocs Un paquete SCORM es un bloque de material web empaquetado de una manera que sigue el estándar SCORM de objetos de aprendizaje.
Ponentes: Jorge Landaverde y Trejo, Universidad Autónoma de Querétaro. Iván Domínguez López, Universidad Marista de Querétaro.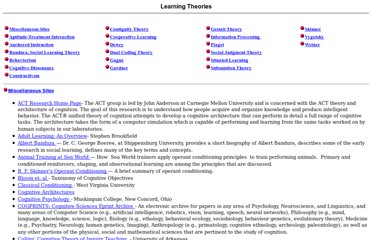 Learning Theories Miscellaneous Sites ACT Research Home Page - The ACT group is led by John Anderson at Carnegie Mellon University and is concerned with the ACT theory and architecture of cognition.
La teoría constructivista se enfoca en la construcción del conocimiento a través de actividades basadas en experiencias ricas en contexto. El constructivismo ofrece un nuevo paradigma para esta nueva era de información motivado por las nuevas tecnologías que han surgido en los últimos años.
Aunque sería lógico pensar que el desarrollo de las Tecnologías de la Información y la Comunicación (TIC) incidiría en la mejora sustancial en el ámbito de la Educación, la realidad muestra que en la actualidad ni el uso de estos recursos en la escuela ha llegado a ser masivo, ni parece haber cambiado sustancialmente ni las pautas de formación del profesorado ni la forma en que éste entiende los procesos de aprendizaje.
Santos Urbina Ramírez