Creativity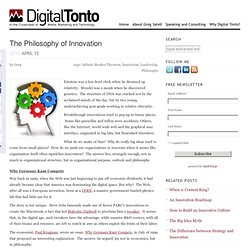 Einstein was a low-level clerk when he dreamed up relativity. Mendel was a monk when he discovered genetics. The structure of DNA was cracked not by the acclaimed minds of the day, but by two young, underachieving post-grads working in relative obscurity. Breakthrough innovations tend to pop up in funny places. Some like penicillin and teflon were accidents.
The Philosophy of Innovation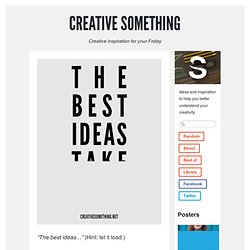 The more time you have to think on something, the more solutions and ideas will make themselves known. That phrase is actually pretty appropriate, because ideas and answers aren't the types of things that simply come from nowhere. No, insights – especially in the case of creative thinking – are already there, inside your brain. But there are a slew of factors that keep us from uncovering those solutions. Sometimes the things that keep us from seeing a creative solution come from a place of fear, though often our inability to think creatively or see the answers in front of us is a direct result of misplaced attention. Recently Merlin Mann and Dan Benjamin discussed this topic on their amazing podcast Back to Work.
Updated March 12, 2012 6:25 p.m. ET Creativity can seem like magic.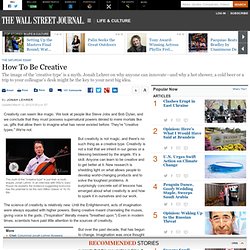 7 questions to ask yourself about excuses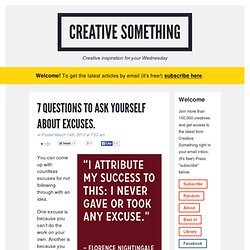 Posted March 14th, 2012 at 7:52 am by Tanner Christensen You can come up with countless excuses for not following through with an idea. One excuse is because you can't do the work on your own.