Chatter
New!! Chatter Messenger. Sharing Files In Chatter. About Chatter. Demo. Basics - Chatter 101. Chatter Online. Chatter on your Desktop. Chatter Mobile App. Notificaiton extension - Chrome. Chatter Help - Following. Learn to Search Video. Learn to search. Groups / Client + Project Teams. Understanding Topics. Learn to @mentions (like Facebook / Twitter) Chatter enforces security and sharing rules in Salesforce.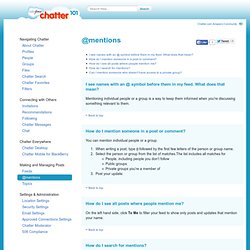 If you make a post to a private group and mention someone who isn't a member of the private group, the mention appears as a gray link. The mentioned person won't see your post and won't get notified about the post. For example, let's say you create a private group for your project team and forget to add your coworker Sandy Dunn to the group.
When you post an update to this group and mention Sandy Dunn, she won't be notified about the update and won't see the update because she's not a member of the private group. If you later add Sandy to the group, Chatter doesn't notify her about the previous mentions. Email management settings.
---