Chatter
New!! Chatter Messenger
Sharing Files In Chatter
About Chatter
Demo
Basics - Chatter 101
Chatter on your Desktop
Chatter Mobile App
Notificaiton extension - Chrome
Chatter Help - Following
Learn to Search Video
Learn to search
How do I find information in Chatter?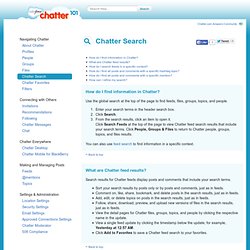 Groups / Client + Project Teams
Understanding Topics
If you post an update to a private group and mention someone who isn't a member of the private group, the mentioned person won't see your update. The mention appears as a gray link (instead of a blue link).
Learn to @mentions (like Facebook / Twitter)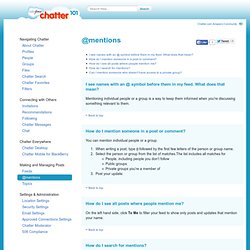 Email management settings