Kinetic
Let's make the world move! Ok, maybe it already moves. Let's HELP it move, with artsy-fartsy moving things of wonder. Combine technology, new and old, creativity, humor and genius and let 'er RIP!
Jonathan Foote Portfolio. Jonathan Foote Selected Projects Portfolio.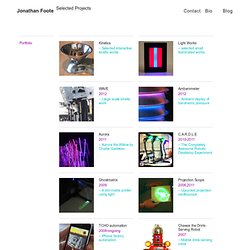 Automata and Automaton Links. The Automata / Automaton Blog - My blog about all things related to automata The Automaton Store - An Amazon aStore featuring automaton-related books, kits, toys, and tools Nemo Gould - Kinetic sculpture from found materials Morris Museum - Featuring the Guinness Collection of mechanical musical instruments & automata.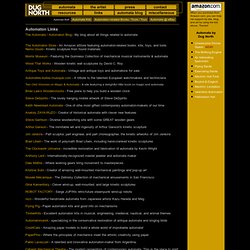 Mechanicalcuriosities.com. Home. Fun Animatronics Sites. 1.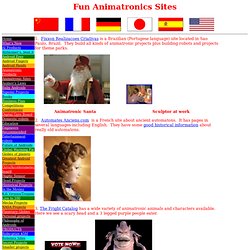 Fixxon Realizacoes Criativas is a Brazilian (Portugese language) site located in Sao Paulo, Brazil. They build all kinds of animatronic projects plus building robots and projects for theme parks. Animatronic Santa Sculptor at work 2. Automates Anciens.com is a French site about ancient automatons. Simulated Reality Systems, LLC - Main Page. The Great Wall O' Gizmos. Workshop Shed. Pierre Luu (FR): Machines hydrauliques - Spiel und Kunst mit Mechanik. Kinetic-Exhibitions. Kineticus Home. KoolKinetics.com. How to Build a Marble Machine.
The centerpiece for this marble machine are the gears.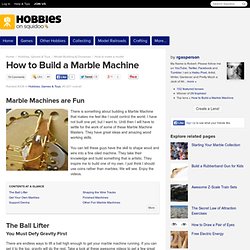 They lift dozens of marbles at a time and send them down an amazing track of twists and turns. At first glance I thought this creation was some sort of wooden gear clock. John S. Morgan. Kinetic Wall Art Large Wooden Gears by Whystler. What geek or steampunk enthusiast isn't gear-happy?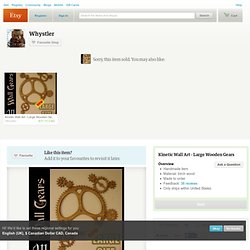 Gears aren't just functional, they have a beauty all their own. Maybe you've seen the marvelous stencils and vinyl gear stick-ons for your wall. Take it to the next level and decorate with something that actually moves with that satisfying "chunkatootha" sound no less! Put a little of your own creative thinking into the mix with a few picture nails, and you have invented your own Kinetic Wall Art! STEPHEN'S ORIGINALS - Gallery.
Kinetica
KMODDL - Kinematic Models for Design Digital Library. The Museum of RetroTechnology. Home. Twentysevengears home. Cool marble machine in wood. Kinetica Art Fair.
---