Kinetic
Let's make the world move! Ok, maybe it already moves. Let's HELP it move, with artsy-fartsy moving things of wonder. Combine technology, new and old, creativity, humor and genius and let 'er RIP! Mar 25
Jonathan Foote Selected Projects Portfolio
Jonathan Foote Portfolio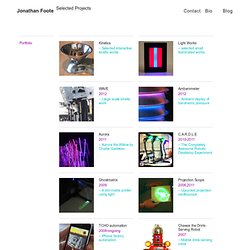 Automata and Automaton Links
The Automata / Automaton Blog - My blog about all things related to automata The Automaton Store - An Amazon aStore featuring automaton-related books, kits, toys, and tools Nemo Gould - Kinetic sculpture from found materials Morris Museum - Featuring the Guinness Collection of mechanical musical instruments & automata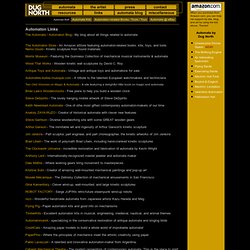 mechanicalcuriosities.com
Home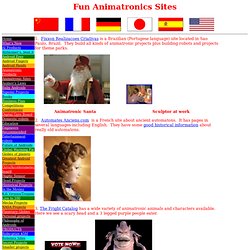 1. Fixxon Realizacoes Criativas is a Brazilian (Portugese language) site located in Sao Paulo, Brazil.
Fun Animatronics Sites
Simulated Reality Systems, LLC - Main Page
The Great Wall O' Gizmos
Workshop Shed
Pierre Luu (FR): Machines hydrauliques - Spiel und Kunst mit Mechanik
Kinetic-Exhibitions
Kineticus Home
KoolKinetics.com
How to Build a Marble Machine
If you sit down and take some time, you can also build machines like the ones below.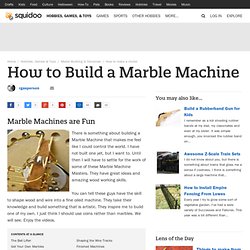 John S. Morgan
Kinetic Wall Art Large Wooden Gears by Whystler on Etsy
STEPHEN'S ORIGINALS - Gallery
KMODDL - Kinematic Models for Design Digital Library
The Museum of RetroTechnology
home
twentysevengears home
cool marble machine in wood
Kinetica Art Fair