Arduino
Problema reloj con LED display de 4 dígitos 7 segmentos[SOLUCIONADO]
Seven Segment Display Tutorial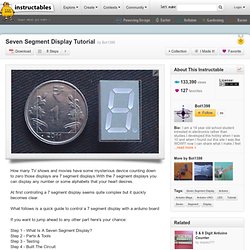 A seven-segment display (SSD), or seven-segment indicator, is a form of electronic display device for displaying decimal numerals that is an alternative to the more complex dot-matrix displays. Seven-segment displays are widely used in digital clocks, electronic meters, and other electronic devices for displaying numerical information.A seven segment display, as its name indicates, is composed of seven elements. Individually on or off, they can be combined to produce simplified representations of the arabic numerals.The seven segments are arranged as a rectangle of two vertical segments on each side with one horizontal segment on the top, middle, and bottom. Additionally, the seventh segment bisects the rectangle horizontally.
Monkey Business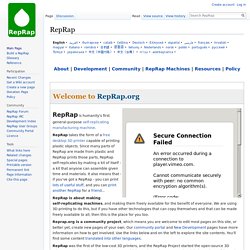 NEWS: Come to the Inside 3D Printing event in New York City ! The event runs from April 22-23 2013. We have arranged for reprappers (that's you!) to get a special 15% discount on admission - quote the code RRP15.
Cap 1. Iniciación Processing/Arduino
Arduino The Documentary (2010) Spanish HD on Vimeo
Welcome to YouTube! The location filter shows you popular videos from the selected country or region on lists like Most Viewed and in search results.To change your location filter, please use the links in the footer at the bottom of the page. Click "OK" to accept this setting, or click "Cancel" to set your location filter to "Worldwide".
Canal de sciguy14
Video Tutorial Arduino: Primeros pasos (Parte 1/2)
First Steps with Arduino