OSX enhancers
Flying Meat: FlyGesture. How it works FlyGesture is activated like Exposé or Dashboard, bringing up a transparent window of "guides" to move your mouse through.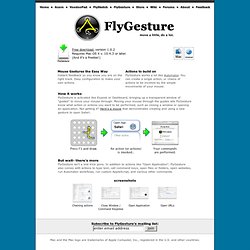 Moving your mouse through the guides lets FlyGesture know what action or actions you want to be performed, such as closing a window or opening an application. Not getting it? Here's a movie that demonstrates creating and using a new gesture to open Safari. Toggle hidden files on and off | Mac OS X | Mac OS X Hints. We've shown you how to reveal hidden files in the Finder from Terminal's command-line.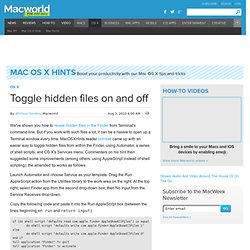 But if you work with such files a lot, it can be a hassle to open up a Terminal window every time. MacOSXHints reader colmiak came up with an easier way to toggle hidden files from within the Finder, using Automator, a series of shell scripts, and OS X's Services menu. Commenters on his hint then suggested some improvements (among others: using AppleScript instead of shell scripting); the amended tip works as follows: F.lux: software to make your life better.
---