Interaction
Review - Drag, Drop, Review.
The Keyglove is an innovative new way to interact with your technology. A wearable, wireless, open-source input device, the Keyglove provides unprecedented flexibility and convenience for gaming, design, art, music, data entry, device control, 3D object manipulation, and even inexpensive telepresence. The Keyglove uses customizable touch combinations and gestures to enter text data, control the mouse, switch between applications, perform multiple operations with a single action, and even have some fun with equipping weapons, attacking, and defending in MMORPGs and other games.
Keyglove
A graphical user interface only lets us see information and interact with it indirectly, as if we were looking through the surface of the water to interact with the forms below. A tangible user interface is like an iceberg: there is a portion of the digital that emerges beyond the surface of the water—into the physical realm—so that we may interact directly with it. Radical Atoms describes our vision for the future of interaction, in which all digital information has physical manifestation so that we can interact directly with it—as if the iceberg had risen from the depths to reveal its sunken mass. Atoms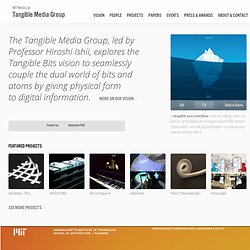 Media Lab - Tangible Media Group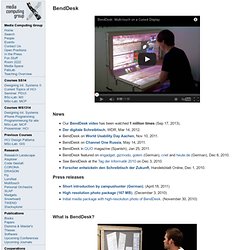 The Media Computing Group :
BendDesk News Our BendDesk video has been watched 1 million times (Sep 17, 2013). Der digitale Schreibtisch, WDR, Mar 14, 2012. BendDesk on World Usability Day Aachen, Nov 10, 2011. BendDesk on Channel One Russia, May 14, 2011.