aMusement
Denmark Facebook Statistics | Facebakers.com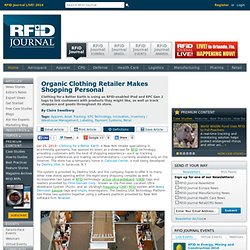 Organic Clothing Retailer Makes Shopping Personal
Clothing for a Better Earth, a New York retailer specializing in eco-friendly garments, has opened its doors as a showcase for RFID technology, providing customers with the kind of shopping experience—such as tracking purchasing preferences and making recommendations—currently available only on the Internet. The store has a temporary home in Carousel Center, a mall being developed by Destiny USA, in Syracuse, N.Y.
Mystery at the Museum is the first indoor Augmented Reality simulation created by the MIT Teacher Education Program. In this game, teams consisting of a Biologist, a Technologist and a Detective must work together to solve a crime. The infamous band of Flamingo Thieves has struck again and stole a priceless object from the Museum of Science, but players must figure out what they have stolen, how they did it, and catch the thieves before they get away. Players have many different ways in which they can collect clues - including interviewing virtual characters (unique to each room within the museum), collecting clues found in exhibit halls, analyzing samples using virtual instruments, and using understanding information from exhibits throughout the museum.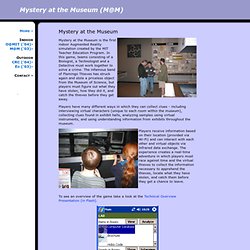 Mystery at the Museum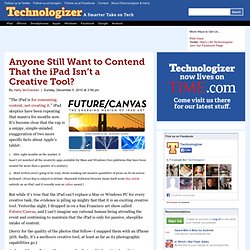 Anyone Still Want to Contend That the iPad Isn't a Creative Tool? - PCWorld
"The iPad is for consuming content, not creating it." iPad skeptics have been repeating that mantra for months now. It's become clear that the rap is a snippy, simple-minded exaggeration of two more specific facts about Apple's tablet:
iPhone RFID object based media
For the teenagers attending the Coca-Cola Village Amusement Park in Israel, the event was probably just a bit of fun.
Coca-Cola Marketing Event Tracked Facebook Users Via RFID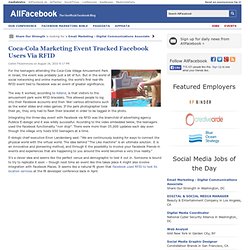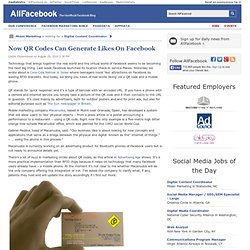 Now QR Codes Can Generate Likes On Facebook
Technology that brings together the real world and the virtual world of Facebook seems to be becoming the next big thing. Last week Facebook launched its location check-in service Places. Yesterday we wrote about a Coca-Cola festival in Israel where teenagers could 'like' attractions on Facebook by waving RFID bracelets.
noorhjem
JennyHolmHviid_mom2010
Noorhjem Nordjylland som levende spilleplade - Sjovforbørn.dk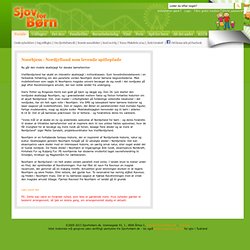 Nu går den mobile skattejagt for danske børnefamilier VisitNordjylland har skabt en interaktiv skattejagt i millionklassen. Som hovedrolleindehavere i en fantastisk fortælling om den parallelle verden Noorhjem styrer børnene begivenhederne.
UserCustomizableVirtualWorlds
Social_Media-Video_Footage_and_the_Law8
innovation in culture
Kunstindeks Danmark & Weilbachs kunstnerleksikon
פרומרקט | קד"מ | הפקת אירועים | תוכן שיווקי | כפר הנוער קוקה קולה
Ultra Wideband Real Time Location Systems | Time Domain
iCarte™ - The Ultimate NFC/RFID Reader for iPhone®
blufr: the new addictive trivia game from Answers.com