Smashing Magazine: Color Theory for Designers
In the previous two parts of this series on color theory, we talked mostly about the meanings behind colors and color terminology . While this information is important, I'm sure a lot of people were wondering when we were going to get into the nitty-gritty of actually creating some color schemes. Well, that's where Part 3 comes in. Here we'll be talking about methods for creating your own color schemes, from scratch . We'll cover the traditional color scheme patterns (monochrome, analogous, complementary, etc.) as well as how to create custom schemes that aren't based strictly on any one pattern.
Color Theory for Designer, Part 3: Creating Your Own Color Palettes - Smashing Magazine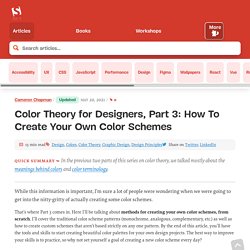 Color Theory For Designers, Part 2: Understanding Concepts And Terminology - Smashing Magazine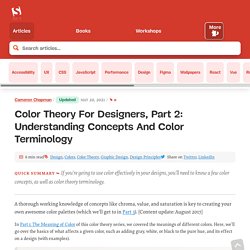 If you're going to use color effectively in your designs, you'll need to know some color concepts and color theory terminology. A thorough working knowledge of concepts like chroma, value and saturation is key to creating your own awesome color schemes. In Part 1: The Meaning of Color of our color theory series, we covered the meanings of different colors.
Color in design is very subjective. What evokes one reaction in one person may evoke a very different reaction in somone else. Sometimes this is due to personal preference, and other times due to cultural background. Color theory is a science in itself.