PHP
Sign-in or Register: Form Design From Scratch
Everything You Need to Get Started With CodeIgniter
CodeIgniter is a web application framework for PHP. It enables developers to build web applications faster, and it offers many helpful code libraries and helpers which speed up tedious tasks in PHP. CodeIgniter is based on a modular design; meaning that you can implement specific libraries at your discretion – which adds to the speed of the framework. This tutorial will attempt to show you the basics of setting up the framework, including how to build a basic hello world application that uses the MVC approach.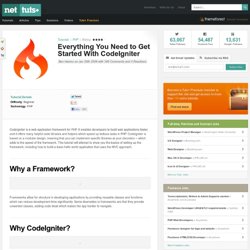 Back in April, Collis Ta'eed - CEO of Envato - wrote a fantastic tutorial on designing a tab structure using CSS/HTML/JS. If you haven't already, I 100% recommend that you review it. However, dynamically pulling in an RSS feed was beyond the scope of that article. In today's video tutorial, I'll show you exactly how to do this using PHP. At roughly forty-five minutes in length, you might want to take a quick "pre-screencast bathroom break". You also might want to grab some raisins.
How to Read an RSS Feed With PHP – screencast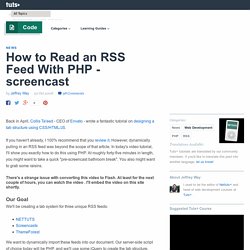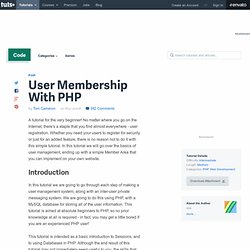 User Membership With PHP
A tutorial for the very beginner! No matter where you go on the Internet, there's a staple that you find almost everywhere - user registration. Whether you need your users to register for security or just for an added feature, there is no reason not to do it with this simple tutorial. In this tutorial we will go over the basics of user management, ending up with a simple Member Area that you can implement on your own website. Introduction
Text messaging has become extremely widespread throughout the world -- to the point where an increasing number of web applications have integrated SMS to notify users of events, sales or coupons directly through their mobile devices. In this tutorial, we will cover the fundamentals of sending text messages with PHP. Overview Sending a text message (SMS) message is actually pretty easy.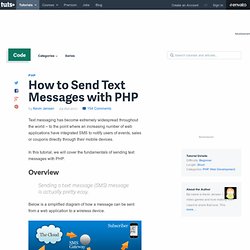 How to Send Text Messages with PHP
Numerous examples from robots to bicycles have been offered as "easy" explanations of what OOP is. I've opted to show you how OOP works with a real-life example, for a programmer. By creating a MySQL CRUD class you can easily create, read, update and delete entries in any of your projects, regardless of how the database is designed. Setting up the skeleton of our class is fairly simple once we figure out exactly what we need.
Real-World OOP With PHP and MySQL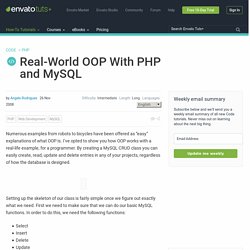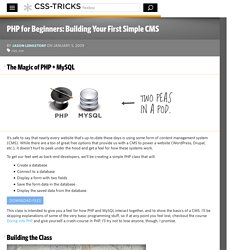 The Magic of PHP + MySQL It's safe to say that nearly every website that's up-to-date these days is using some form of content management system (CMS). While there are a ton of great free options that provide us with a CMS to power a website (WordPress, Drupal, etc.), it doesn't hurt to peek under the hood and get a feel for how these systems work.
Preamble The hardest thing to learn (and teach btw,) in object oriented PHP is the basics. But once you understand them, the rest will come much, much easier. But don't be discouraged! You just found the easiest to understand tutorial out there on OOP and PHP. It may sound like a boastful claim, I know, but that's what the nerd zeitgeist is saying.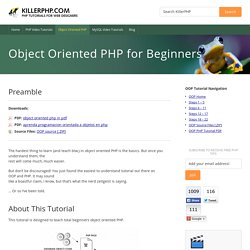 Authentication is required for virtually any type of web application. In this tutorial, I'd like ... Authentication is required for virtually any type of web application.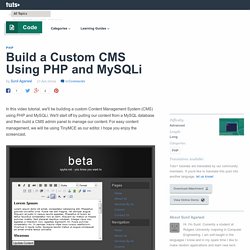 Build a Custom CMS Using PHP and MySQLi: New Premium Tutorial
Testing your code is annoying, but the impact of not doing so can be orders of magnitude more annoying! In this article, we'll use test-driven development to write and test our code more effectively. What is Test-Driven Development? Since the dawn of the computer era, programmers and bugs have battled for supremacy. It's an inevitable occurrence.
The Newbie's Guide to Test-Driven Development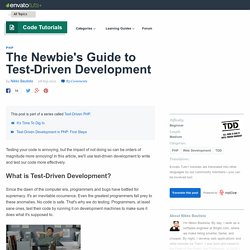 Holding the title of "number one", PHP is the most popular language among developers. Even still, many prefer different languages. Yours truly, for example, is most comfortable when working in the ASP.NET environment. However, because of the enormous success of Wordpress, more and more developers have decided to expand their horizons and learn yet another language. I happen to be one of those very people.
Learn PHP from Scratch: A Training Regimen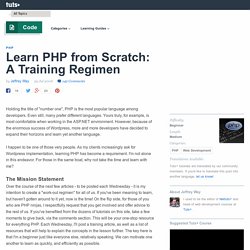 Object-Oriented PHP for Beginners
Twice a month, we revisit some of our readers' favorite posts from through out the history of Nettuts+. This tutorial was first published in July, 2010. For many PHP programmers, object-oriented programming is a frightening concept, full of complicated syntax and other roadblocks. As detailed in my book, Pro PHP and jQuery, you'll learn the concepts behind object-oriented programming (OOP), a style of coding in which related actions are grouped into classes to aid in creating more-compact, effective code.
Twice a month, we revisit some of our readers' favorite posts from throughout the history of Nettuts+. Even after using PHP for years, we stumble upon functions and features that we did not know about. Some of these can be quite useful, yet underused. With that in mind, I've compiled a list of nine incredibly useful PHP functions and features that you should be familiar with. 1. Functions with Arbitrary Number of Arguments
When working my way through a web gallery, I find it annoying when I must change pages; so in today's tutorial, we will learn how to create an auto-generating, one-page, infinite scrolling gallery with PHP and AJAX. Let's get started! Step 1: Project Outline We'll begin with a normal gallery page that has a container for our images, and we'll monitor the scroll position by calling a JavaScript function at a quick interval. Each time the scroll bar is near the bottom, we'll make an AJAX request to an external PHP file, which returns a list of image names. Now, all we'll need to do is add these images to our container, thus modifying the page height moving the scroll position higher.
How to Create an Infinite Scrolling Web Gallery
Introduction Over the past two parts I have explained what I am planning to do in this tutorial and have shown you how to create a database to use with the tutorial. In this part I will be showing you how to insert some information into your database so that it is more useful.
PHP/MySQL Tutorial - Part 3
Using PHP to develop a simple file uploader - Form Handler
In this series of tutorials we will look at how to develop a simple file uploader using PHP. All of the code is freely available for download (License: GNU GPL) from this link: Download File Uploader. In this tutorial, we will look at how to create a form handler to process the uploaded file. In Creating a Simple File Uploader Using PHP - Part 2 we looked at how to produce a very simple form to enable someone to browse for, and select, a file to upload. In this tutorial we will look at how to store the selected file in a directory on a server.