PHP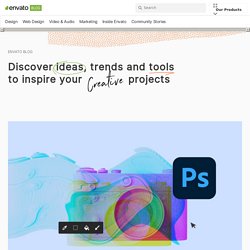 How to Create a Contact Form Using PHP and AJAX
I noticed a thread on the forums that discussed exactly how to implement a working contact form into a site template. So I thought to myself, "What better way to demonstrate the process than with a screencast!" The code that you'll find here is 100% yours to use in any way, shape, or form. Feel free to use it as it is, or or edit the code to your heart's content. As long as you use it to make your ThemeForest templates better, I'll be happy. *Note – I've added three lines of code to the Javascript file.
Learning OOP in PHP ASAP!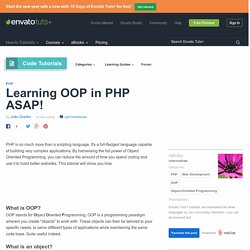 PHP is so much more than a scripting language. It's a full-fledged language capable of building very complex applications. By harnessing the full power of Object Oriented Programming, you can reduce the amount of time you spend coding and use it to build better websites. This tutorial will show you how. What is OOP? OOP stands for Object Oriented Programming.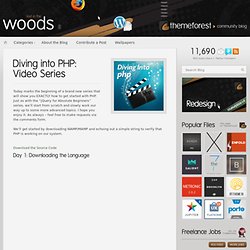 Today marks the beginning of a brand new series that will show you EXACTLY how to get started with PHP. Just as with the "jQuery for Absolute Beginners" series, we'll start from scratch and slowly work our way up to some more advanced topics. I hope you enjoy it. As always – feel free to make requests via the comments form.
Diving into PHP: Video Series
Why You're a Bad PHP Programmer
We all have our bad habits. In this article, we'll go over a list of bad practices that are worth examining, reevaluating, and correcting immediately. Republished Tutorial Every few weeks, we revisit some of our reader's favorite posts from throughout the history of the site.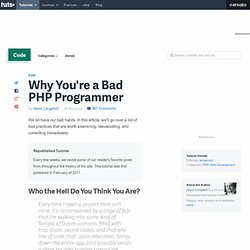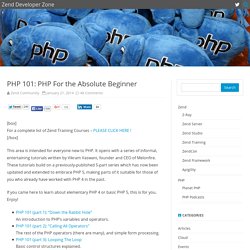 This area is intended for everyone new to PHP. It opens with a series of informal, entertaining tutorials written by Vikram Vaswani, founder and CEO of Melonfire. These tutorials build on a previously-published 5-part series which has now been updated and extended to embrace PHP 5, making parts of it suitable for those of you who already have worked with PHP 4 in the past. If you came here to learn about elementary PHP 4 or basic PHP 5, this is for you. Enjoy!