Articles
Regular expressions are a language of their own. When you learn a new programming language, they're this little sub-language that makes no sense at first glance. Many times you have to read another tutorial, article, or book just to understand the "simple" pattern described.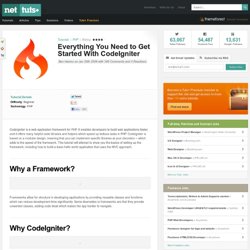 Everything You Need to Get Started With CodeIgniter
CodeIgniter is a web application framework for PHP. It enables developers to build web applications faster, and it offers many helpful code libraries and helpers which speed up tedious tasks in PHP. CodeIgniter is based on a modular design; meaning that you can implement specific libraries at your discretion – which adds to the speed of the framework. This tutorial will attempt to show you the basics of setting up the framework, including how to build a basic hello world application that uses the MVC approach. Why a Framework?
Ajax is commonly overlooked as a language that many newbies to web design don't really understand. Well the truth is, Ajax can do wonderful things and give your website that extra special something. I have rounded up a collection of the top 20 Ajax tutorials I think will help anyone get their feet wet with Ajax.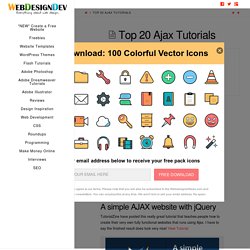 Top 20 Ajax Tutorials | Web Design Dev
Weekend Inspiration: Time-Lapse Web Design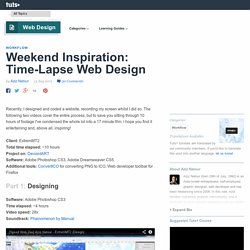 Recently, I designed and coded a website, recording my screen whilst I did so. The following two videos cover the entire process, but to save you sitting through 10 hours of footage I've condensed the whole lot into a 17 minute film. I hope you find it entertaining and, above all, inspiring! Client: ExtremMT2Total time elapsed: ~10 hoursProject on: DeviantARTSoftware: Adobe Photoshop CS3, Adobe Dreamweaver CS5Additional tools: ConvertICO for converting PNG to ICO, Web developer toolbar for Firefox Part 1: Designing Software: Adobe Photoshop CS3Time elapsed: ~4 hoursVideo speed: 28xSoundtrack: Phainomenon by Manual
We've spent our waking hours, and then some, for the past few years helping designers build great sites. Along the way, we've learned a lot from everyone we've worked with. We recently published our free eBook, 5 Tips for Better Sites, so we could explain in some depth the top things designers might want to focus on to improve their results. We also find, as you might imagine, a wide range of beliefs and practices that don't serve either the designers or their customers, but linger because we're all living in such a complex, fast-changing world. Here's our take on the top ten myths that hold designers back in building great websites. Myth 1: To be an effective designer, you must learn to program
Ten Myths That Hold Web Designers Back
Understanding Copyright And Licenses - Smashing Magazine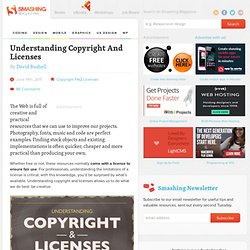 Advertisement The Web is full of creative and practical resources that we can use to improve our projects. Photography, fonts, music and code are perfect examples. Finding stock objects and existing implementations is often quicker, cheaper and more practical than producing your own. Whether free or not, these resources normally come with a license to ensure fair use.
Canal de ThinkVitaminTutorial‬‏
If you are looking for that perfect icon for your web site, blog, web app or application, you will find them here. Below is a compilation of the best ever Web Design and Development Icon Sets. Please note, this list has no ranking. bwpx Icons Sanscons Icon Set