Rockleegustavo
Silvino Gustavo
I'm someone nice, they say.
Fix Absolutely Anything, Anywhere With A Keychain Toolkit. I take it you remove your bike key for riding?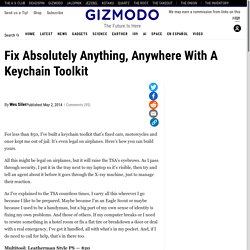 Or are your triple trees all scarred to hell? I don't even put bike keys on this keychain. They hang on a rack at home and then go in a zippered jacket pocket when I've parked the bike somewhere. Just my little system for not losing them. I don't think I'd do well with that system.
---