Shoes
Peacock Leaf Gladiator Sandal. Steve Madden P-Mikala Taupe Suede. We apologize, we were unable to find a result based on your search for "steve madden p mikala taupe suede".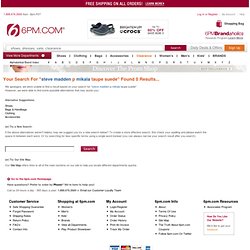 However, we were able to find some possible alternatives that may assist you: Alternative Suggestions: (or) Try a New Search: If the above alternatives weren't helpful, may we suggest you try a new search below? To create a more effective search, first check your spelling and please watch the space in between each word. ShoeMint. Barefoot sandals crochet light beige nude shoes.
GYPSY barefoot sandals PEACOCK FEATHER. BIG BUDDHA Peek Womens Sandals 190883409 | sandals. Bamboo Eartha 04 Taupe Super Strappy Flat Gladiator Sandals - $25. Diva Lounge Starcy 40 Chestnut Suede Convertible Moccasin Boots - $33. Dollhouse Combat Lace Up Military Mid Calf Boot. Soda Dome-HA Lace Up Military Boot.
---