Nails
Newest Nail Polish Designs for Your Nails - BeautyRiot.com - Cloudy with a Chance of Gold - Page 5. These clouds may look a little threatening, but we prefer to focus on the gold lining ahead.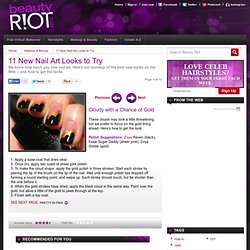 Here's how to get the look: Polish Suggestions: Zoya Raven (black), Essie Sugar Daddy (sheer pink), Zoya Goldie (gold) 1. Apply a base coat that dries clear.2. How-To: Instant Nail Arts - Do Yourself | ~She Exists~ | to Add Colors in Life. Half Moon Nails — Pretty Shiny Sparkly - StumbleUpon. MANI MONDAY. Photos and post by Kristin Ess If you combine our love of chevron patterns with our love of color, you get Missoni.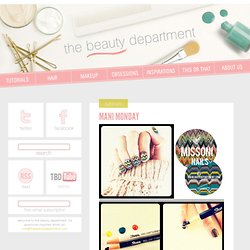 Since the famous italian fashion house doesn't make nail decals, we figured we'd give "Missoni Nails" a shot! While doing these nails, I discovered my new favorite nail decorating tool: THE GREASE PENCIL! Nails - Polyvore - StumbleUpon. NAILED IT! Photos: thecommaqueen.tumblr.com, ale-kat.tumblr.com post created by lauren conrad Lately, as I have been studying new trends for my clothing lines, I have been seeing vintage florals everywhere and some of the places they have been popping up are a little unexpected.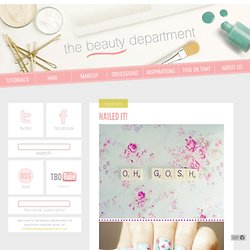 I have seen sunglasses, platforms, hand bags… and now nails.
---