Mr. Green's Research Paper
Espionage and counterespionage were as commonplace during the 18th century as they were in the 20th century during the Cold War. During the Revolutionary War, spies for both England and America obtained and transmitted information about troop movement, supplies, fortifications, and political maneuvers. Loyalists in America (or Tories as they were often called) were happy to provide secret information to the Crown, and British sympathizers with the colonists' cause helped funnel information to the American forces.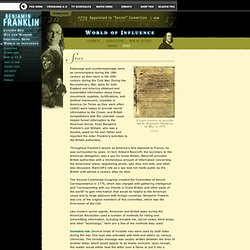 Benjamin Franklin . World of Influence . Spies
proxyProquestPDF
Spy Networks -- The Culper Gang
The Culper Gang June 27, 1779 -- George Washington to Benjamin Tallmadge In 1778, at Washington's orders Benjamin Tallmadge organized a spy network in New York City, the heart of the British forces. Tallmadge was to take all precautions that this ring would be extremely secret; in fact, it was so secrets that Washington did not even know who the men in the spy ring were. Robert Townsend, Abraham Woodhull, Austin Roe, Anna Strong, and Caleb Brewster made up this ring, and the code name for it was Samuel Culper.
The latest thriller from author Brad Meltzer supposes that the president of the United States has a private ring of spies. The Inner Circle imagines that the spy ring is passed on from one president to the next. Meltzer tells Steve Inskeep that the idea for his novel came from a real-life experience. Copyright © 2011 NPR. For personal, noncommercial use only.
Brad Meltzer's 'Inner Circle' Set At National Archives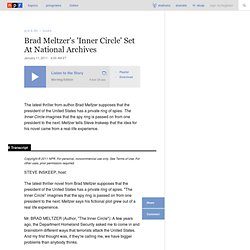 Woodhull, who began running the group's day-to-day operations on Long Island, also personally traveled back and forth to New York collecting information and observing naval maneuvers there. He would evaluate reports and determine what information would be taken to Washington. Dispatches would then be given to Brewster, who would carry them across the Sound to Fairfield, Connecticut, and Tallmadge would then pass them on to Washington. Woodhull lived in constant anxiety of being discovered, and by the summer of 1779 he had recruited another man, the well-connected New York merchant Robert Townsend, to serve as the ring's primary source in the city. Townsend wrote his reports as "Samuel Culper, Jr." and Woodhull went by "Samuel Culper, Sr."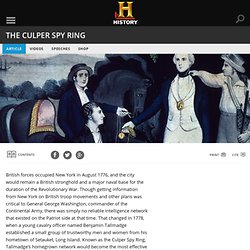 The Culper Spy Ring — History.com Articles, Video, Pictures and Facts
George Washington - Master of Misinformation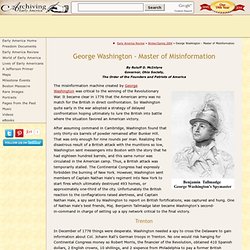 By Ruluff D. McIntyre Governor, Ohio Society, The Order of the Founders and Patriots of America The misinformation machine created by George Washington was critical to the winning of the Revolutionary War. It became clear in 1776 that the American army was no match for the British in direct confrontation. So Washington quite early in the war adopted a strategy of delayed confrontation hoping ultimately to lure the British into battle where the situation favored an American victory.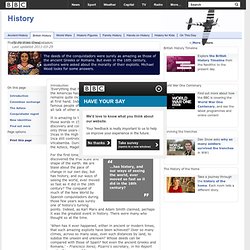 British Broadcasting Corporation Home Accessibility links History The Story of the Conquistadors
History - The Story of the Conquistadors
Destiny Quest
Student Research Center - powered by EBSCOhost: Basic Search
History Study Center - Home Page
NoodleTools