History
Ancient Spaces: Antiquity Comes Alive. 8,000 BCE to 1,000 BCE Timeline : From Cave Paintings to the Internet. 4339 entries. 93 themes.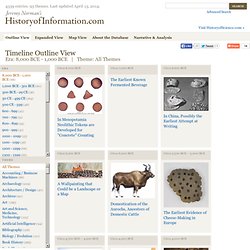 Last updated April 13, 2014. Circa 8,000 BCE In Mesopotamia Neolithic Tokens are Developed for "Concrete" CountingCirca 7,000 BCEThe Earliest Known Fermented BeverageCirca 6,600 BCE In China, Possibly the Earliest Attempt at WritingCirca 6,200 BCE A Wallpainting that Could be a Landscape or a MapCirca 6,000 BCE. Ancient.history. Karl Friedrich Weiland - Strategie und Taktik in der Kriegstheor.
Leben[Bearbeiten] Herkunft[Bearbeiten] Carls älterer Bruder war der Generalmajor Wilhelm Benedikt von Clausewitz.
Bis zu seinem 12. Projekt Gutenberg-DE - SPIEGEL ONLINE - Nachrichten - Kultur.
---