Yammer
Techcrunch
Review: Yammer for iPhone | iPhone Central. Do you Twitter?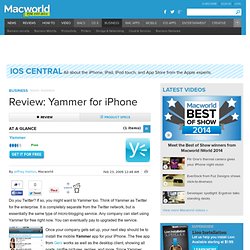 If so, you might want to Yammer too. Think of Yammer as Twitter for the enterprise. It is completely separate from the Twitter network, but is essentially the same type of micro-blogging service. Any company can start using Yammer for free right now. Yes, We Need A Twitter For Business - iMedia Connection Blog. I think we do need Twitter for business.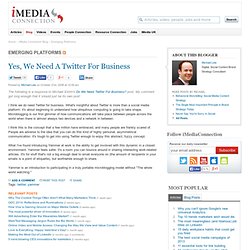 What's insightful about Twitter is more than a social media platform: it's about beginning to understand how ubiquitous computing is going to take shape. Microblogging is our first glimmer of how communications will take place between people across the world when there is almost always two devices and a network in between. I think this is the concept that a few million have embraced, and many people are frankly scared of. People are adverse to the idea that you can do this kind of highly personal, asymmetrical communication.
It's tough to get into using Twitter enough to enjoy this abstract, fuzzy concept. Yammer Aims To Bring Microsharing Inside Corporate Firewalls. Later today at the LA Twiistup event, the makers of Twitter-for-business application Yammer will announce a new, hosted version of its software that will enable companies to install it inside their corporate firewall.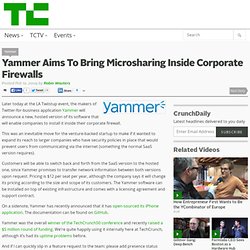 This was an inevitable move for the venture-backed startup to make if it wanted to expand its reach to larger companies who have security policies in place that would prevent users from communicating via the internet (something the normal SaaS version requires). Customers will be able to switch back and forth from the SaaS version to the hosted one, since Yammer promises to transfer network information between both versions upon request. Pricing is $12 per seat per year, although the company says it will change its pricing according to the size and scope of its customers. The Yammer software can be installed on top of existing infrastructure and comes with a licensing agreement and support contract. David Sacks, Founder And CEO Of Yammer. Social Networking Now Show from Jan 28th includes interview with the CEO of Yammer.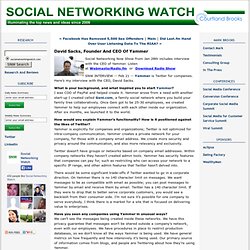 Listen at WebmasterRadio.fm or Download Radio Show SNW INTERVIEW -- Feb 21 -- Yammer is Twitter for companies. Here's my interview with the CEO, David Sacks. What is your background, and what inspired you to start Yammer? I was COO of PayPal and helped create it. Yammer.
---