Yammer
Review: Yammer for iPhone | iPhone Central
Yes, We Need A Twitter For Business - iMedia Connection Blog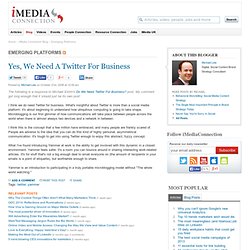 The following is a response to Michael Estrin's Do We Need Twitter For Business? post.
Extends Microblogging Inside the Corporate Firewall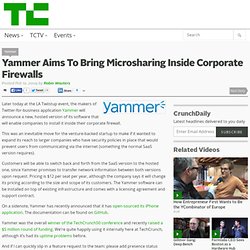 Later today at the LA Twiistup event, the makers of Twitter-for-business application Yammer will announce a new, hosted version of its software that will enable companies to install it inside their corporate firewall. This was an inevitable move for the venture-backed startup to make if it wanted to expand its reach to larger companies who have security policies in place that would prevent users from communicating via the internet (something the normal SaaS version requires).
Yammer Aims To Bring Microsharing Inside Corporate Firewalls
David Sacks, Founder And CEO Of Yammer
Social Networking Now Show from Jan 28th includes interview with the CEO of Yammer. Listen at WebmasterRadio.fm or Download Radio Show