Virtualmeeting
28 Web Conference Training Tips. Posted by B.J.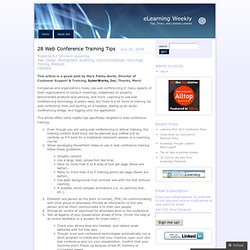 Schone in eLearning. Tags: Design, Development, eLearning, InstructionalDesign, technology, Training, Webinars trackback This article is a guest post by Mary Polley-Berte, Director of Customer Support & Training, SyberWorks, Inc. Thanks, Mary! eLearning Technology. Big blue button. Online Community Engagement: Advantages and Disadvantages of Online Communication (Revisited) This is a recording of a webinar we hosted last week.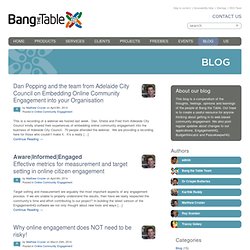 Dan, Sheila and Fred from Adelaide City Council kindly shared their experiences of embedding online community engagement into the business of Adelaide City Council. 70 people attended the webinar. We are providing a recording here for those who couldn't make it. It's a really […] Article on online facilitation. OK, what do you think should a) come out of this article, b) is missing and needs adding in, and c)needs to be better reframed for the current context.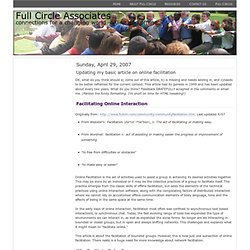 This article had its genesis in 1999 and has been updated about every two years. What do you think? Feedback GRATEFULLY accepted in the comments or email me. (Pardon the funky formatting.
---