TELT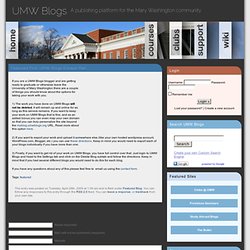 UMW Blogs Escape Plan – UMW Blogs
If you are a UMW Blogs blogger and are getting ready to graduate or otherwise leave the University of Mary Washington there are a couple of things you should know about the options for taking your work with you. 1) The work you have done on UMW Blogs will not be deleted . It will remain up and online for as long as this service remains.
10 Damaging E-learning Myths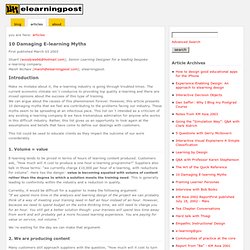 you are here: articles First published March 03 2003 Stuart ( woodyweb6@hotmail.com ), Senior Learning Designer for a leading bespoke e-learning company.
The E-Learning Maturity Model (eMM) provides a means by which institutions can assess and compare their capability to sustainably develop, deploy and support e-learning. The eMM is based on the ideas of the Capability Maturity Model and SPICE (Software Process Improvement and Capability dEtermination) methodologies. The underlying idea that guides the development of the eMM is that the ability of an institution to be effective in any particular area of work is dependent on their capability to engage in high quality processes that are reproducible and able to be extended and sustained as demand grows. Using the eMM
UTDC | Victoria University of Wellington
Reflections on 2007