Studentportal
Current students - The University of Sydney
Student-Portal.pdf (application/pdf Object)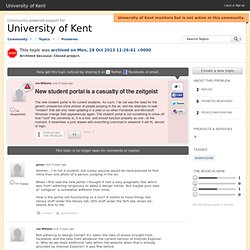 Hmmm... I'm not a student, but surely anyone would be hard-pressed to find more than one photo of a person jumping in the air. When I first saw the new portal I thought it had a very pragmatic feel which was *not* adhering religiously to web2.0 design trends. But maybe your idea of 'zeitgeist' is somewhat different from mine. How is the portal not functioning as a tool? It seems to have things like library stuff under the library tab, SDS stuff under the SDS tab, email etc.
New student portal is a casualty of the zeitgeist
New portal to student success at UniSA
Media Release January 14, 2004 Students at the University of South Australia will have an easier time managing their studies this year with the introduction of a new online student portal called myUniSA.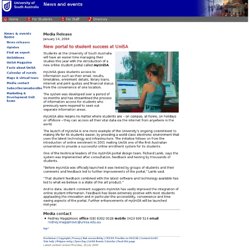 myUMBC: Home
Portal Home
Tilburg University - Evaluation of received Student Portal suggestions
my.UQ Student, The University of Queensland
NTU School of Art, Design
IBM - University of London builds a comprehensive student portal with IBM and Open Logic (08/20/2008)
The University of London is one of the oldest, largest and most diverse universities in the UK. The University consists of 19 self-governing Colleges – including UCL, King's College and the London School of Economics and Political Science – as well as the prestigious School of Advanced Study. In total, over 90,000 people study as internally registered students on campus. In addition there are also more than 41,000 distance learning students, registered by the University of London through the External System.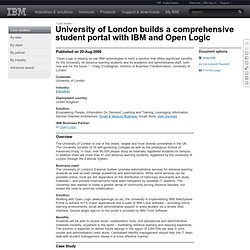 DIGI[cation]