Socialnetworks
It amazes me how some blogs take off and grow a very large and loyal audience so quickly. The rest of us can learn a lot from observing the success of others and evaluating what they are doing. There are any number of ways to build a blog, but most of them take more time than we would like. There are 3 elements that can come together to drastically improve your growth, whether it's a new blog or an existing one. Individually, these elements are powerful and important, but together they can help build on each other and create exponential growth.
An Equation for Explosive Blogging Growth: Content Networking Social Media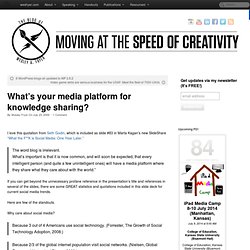 I love this quotation from Seth Godin, which is included as slide #83 in Marta Kagan's new SlideShare "What the F**K is Social Media: One Year Later." The word blog is irrelevant. What's important is that it is now common, and will soon be expected, that every intelligent person (and quite a few unintelligent ones) will have a media platform where they share what they care about with the world."
What's your media platform for knowledge sharing? » Moving at the Speed of Creativity
Networks get things done. Whether it's sending a letter or lighting your home. Networks make it happen. To get from Chicago to Santa Fe, we need to see the network of roads that will get us there. We see that Chicago is connected to St Louis, which is connected to Dallas, which is connected to Santa Fe.