Nswinnovations08
Does your innovation program have legs?
I was talking with an innovation practitioner in a firm recently and he admitted that if he were "hit by a bus" or left the organization, that action would probably effectively end the innovation effort in his firm. His organization's innovation efforts don't have deep roots, or perhaps the program does have legs, unfortunately they are attached to the main idea champion. Right now, in a lot of organizations, I suspect that this is a common occurrence.
101Resources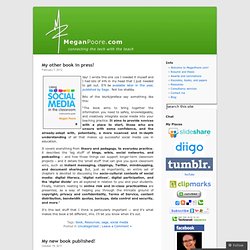 I have been doing a looooot of work recently on how to keep teachers and students safe when using 'externally hosted' (i.e., outside of your institution) web services, such as those we find in 'Web 2.0′. Of course, Web 2.0 allows for clearly constructivist and connectivist pedagogies, which is all good for education … BUT … There can be problems when teachers 'go rogue' and use external services in inappropriate or uninformed ways, thus exposing their institution, its staff or students to risks to reputation, to legal liability and other such nasties that I'm sure we would all really rather avoid. If we accept the educational rationale for staff and students wanting to use externally hosted services in class (as opposed, or in addition, to the dreaded LMS), then we must also find safe, responsible and sustainable ways for them to do so.
MeganPoore.com » Welcome to MeganPoore.com!
Innovate and integrate: Embedding innovative practices research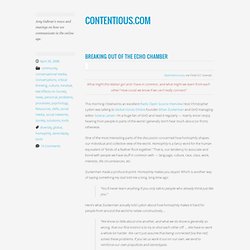 Breaking out of the echo chamber
This morning I listened to an excellent Radio Open Source interview. Host Christopher Lydon was talking to Global Voices Online founder Ethan Zuckerman and GVO managing editor Solana Larsen. I'm a huge fan of GVO and read it regularly — mainly since I enjoy hearing from people in parts of the world I generally don't hear much about (or from) otherwise.
Beth Kanter wrote yesterday about the recent growth in blogs maintained by nonprofit techies, linking it to my earlier posts on creating a climate of learning. She points out that: What's great about this type of blogging is that a) encourages self-reflection and personal learning that contributes to organizational learning b) encourages a sort of peer dialogue. It got me thinking about how to make this kind of blogging for learning a little more intentional. I think this line of thinking went with a blog post I read over the weekend about how Web 2.0 should be changing our thinking about learning: "But except for a few small pockets of innovation, many of the technological tools we use in the classroom — from course-management systems to PowerPoint — help primarily not with teaching students to think, but with the most pedestrian (and often least effective) aspect of teaching: the delivery of content.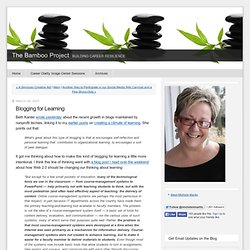 Blogging for Learning
40,077 views Featured in: Technology Adapted from the original Ethos3 "Meet Henry" style and inspired by Scott Gavin's "Meet Charlie" and The Shed's "Meet Charlotte" slides, this slideshow addresses learning 2.0 in the ... Adapted from the original Ethos3 "Meet Henry" style and inspired by Scott Gavin's "Meet Charlie" and The Shed's "Meet Charlotte" slides, this slideshow addresses learning 2.0 in the enterprise 1.0
Meet Charlene
Tearing Down and Building Up
You know that when one great thinker talks about a subject that you are interested in, you should pay attention. When two great thinkers from two very different schools of thought coincide, then you ought to drop everything and see what they've got to say. Pablo Picasso is quoted as having said "Every act of creation is first of all an act of destruction". You may remember Picasso as the painter of the melted clocks and an exceptionally influential painter. Another of his quotes that I like a lot is "Bad artists copy. Great artists steal."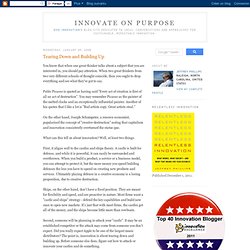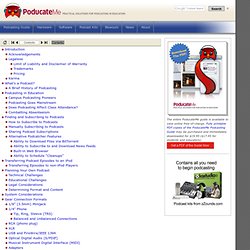 Guide | PoducateMe
The entire PoducateMe guide is available to view online free-of-charge. Fully printable PDF copies of the PoducateMe Podcasting Guide may be purchased and immediately downloaded for $19.95 ($17.95 for students and educators). PoducateMe.com and the PoducateMe Podcasting Guide ©2007-2010 by Micah Ovadia Printable copies of the PoducateMe Podcasting Guide are available for purchase and immediate download from the printed guide purchase page Site hosted by IXWebHosting Micah Ovadia