Networkedlearning
Learn Nodes Findability Animation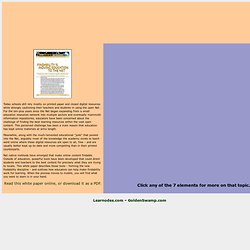 Today schools still rely mostly on printed paper and closed digital resources while strongly cautioning their teachers and students in using the open Net . For the ten-plus years since the Net began expanding from a small education resources network into multiple sectors and eventually mammoth information repositories, educators have been concerned about the challenge of finding the best learning resources within the vast open content. This perceived challenge has been a main reason that education has kept online materials at arms length.
In Next Web people explore and discuss on opportunities related to web 2.0, semantic web and semantic technologies applied to the web, Web 3.0 and, in general, evolution and future of the Internet. The community discusses the future of the web and the way in which the set of technologies enabling internet will influence the development of the socio-digital life, the building of the digital identity of people and organizations, and the acceleration of learning social processes. All thanks to the exercise of simultaneous sociability and access to ubiquitous information and intelligence.
Connect intelligence and interests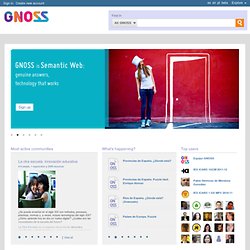 2008-Horizon-Report
Networked Learning: Education in distributed networks
Networked Learning: Education in distributed networks by Stephan Ridgway, eLearning Cordinator, TAFE NSW - Sydney Institute A presentation as guest speaker for the Digital Media Components & Products course, Randwick College, 21 August 2007 image by TouchGraph Overview In this session participants will gain an understanding of:An historical overview of the shift from distance learning, online learning through to eLearningOverview of the emergent web2.0 and it's defining characteristicsNetworked Learning modelSession Recordings A brief history of eLearning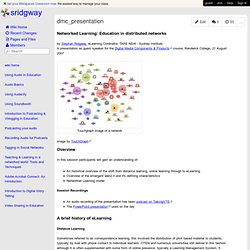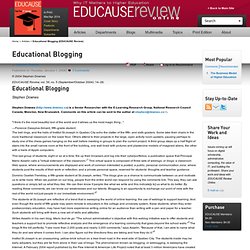 REVIEW | September/October 2004, Volume 39, Number 5
© 2004 Stephen Downes EDUCAUSE Review, vol. 39, no. 5 (September/October 2004): 14–26. Stephen Downes Stephen Downes (http://www.downes.ca) is a Senior Researcher with the E-Learning Research Group, National Research Council Canada, Moncton, New Brunswick. Comments on this article can be sent to the author at stephen@downes.ca. "I think it's the most beautiful tool of the world and it allows us the most magic thing..."