Multiliteracies
Connecting the Digital Dots: Literacy of the 21st Century
Refocusing Multiliteracies for the Net Gen
Putting Multiliteracies to the Test
Over the past few weeks, I have been fortunate enough to teach in MSU's MA in Ed Tech program here in Rouen, France. With the inspiration of Leigh Graves Wolf and Punya Mishra, one of the major foci of the program is on creativity. As I think about how to be more creative in teaching my own pre-service methods courses and leading professional development, this summer has been very helpful for me, allowing me enough flexibility to explore new ideas while also teaching about broad themes in education, as well as educational technology.
Digital Writing, Digital Teaching » Multiliteracies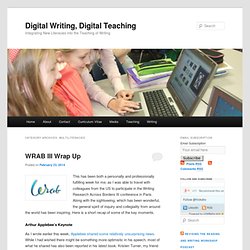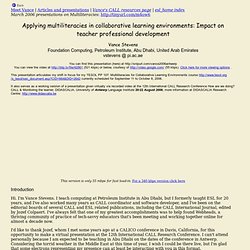 Meet Vance | Articles and presentations | Vance's CALL resources page | esl_home indexMarch 2006 presentations on Multiliteracies: http://tinyurl.com/m4ow6 Applying multiliteracies in collaborative learning environments: Impact on teacher professional development Vance StevensFoundation Computing, Petroleum Institute, Abu Dhabi, United Arab Emiratesvstevens @ pi.ac.ae You can find this presentation (here) at http://snipurl.com/vance2006antwerpYou can view the video at http://blip.tv/file/62861 (521 kbps) or below, courtesy of http://video.google.com/ (55 kbps). Click here for more viewing options . This presentation articulates my shift in focus for my TESOL PP 107: Multiliteracies for Collaborative Learning Environments course http://www.tesol.org/s_tesol/sec_document.asp?
DIDASCALIA / Antwerp 2006: Vance Stevens, Multiliteracies