Mindmapping
About TheBrain. What we do.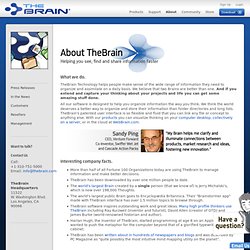 TheBrain Technology helps people make sense of the wide range of information they need to organize and assimilate on a daily basis. We believe that two Brains are better than one. And if you extend and capture your thinking about your projects and life you can get some amazing stuff done. Mindmanagert: Brainstorming, Free Form Thinking, and Visual Aid Mind Mapping Software Program. Text 2 Mind Map – The text-to-mind-map converter. Visual Understanding Environment. How to Mind Map: A Beginner's Guide. Download Using Map Free Maps The more you know and learn, the easier it is to learn and know more. — Tony Buzan What is Mind Mapping?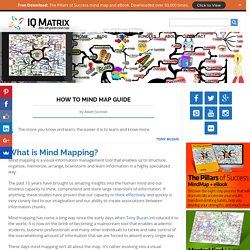 Mind mapping is a visual information management tool that enables us to structure, organize, memorize, arrange, brainstorm and learn information in a highly specialized way. The past 10 years have brought us amazing insights into the human mind and our limitless capacity to think, comprehend and store large reservoirs of information.
---