Future
Didyouknow. For:seanfitz. Solar. Opinion: Moving beyond Web 2.0. A confirmation email has been sent to your email address - SUPPLIED GOES EMAIL HERE .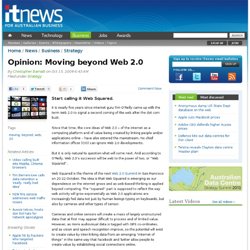 Please click on the link in the email to verify your email address. You need to verify your email before you can start posting. If you do not receive your confirmation email within the next few minutes, it may be because the email has been captured by a junk mail filter. Please ensure you add the domain @itnews.com.au to your white-listed senders. FRONTLINE: digital nation: watch the full program. I wanted to wait a bit because it seemed like it'd be more interesting to listen to all of you.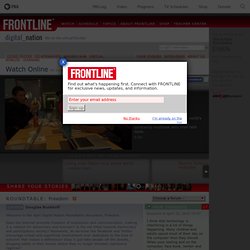 There used to be a name for what I was doing, "lurking" -- it dates back to a very different time in the net's history, when usenet and mailing lists were the main forms of communication. It was hard to talk about lurkers then, for the obvious reason that no one knew much about them; it hasn't gotten much easier since. The idea of lurkers has all but vanished now, buried by a succession of ways to try and slice and dice them: "eyeballs," pageviews, users, subscribers, friends, followers, etc, etc. I think these changes are relevant in this context because Doug's initial questions put a lot of emphasis on expression: participation and activism on the one hand, and a concern that "social networks" (as if there were any other kind) might be diminishing the quality of people's engagement, on the other. Seth's Blog: The future of the library. What should libraries do to become relevant in the digital age?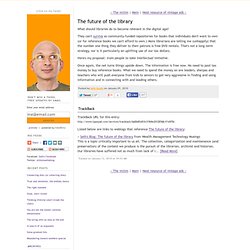 They can't survive as community-funded repositories for books that individuals don't want to own (or for reference books we can't afford to own.) More librarians are telling me (unhappily) that the number one thing they deliver to their patrons is free DVD rentals. That's not a long-term strategy, nor is it particularly an uplifting use of our tax dollars. Learning to Change-Changing to Learn. Timeline of trends and events.
---