Enterprise2.0
Not every blog has its day. Logging off ... companies are discovering that some social software is not keeping staff as engaged as anticipated.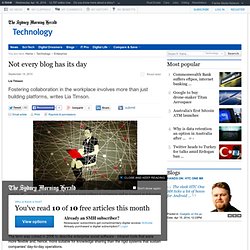 Illustration: Michel O'Sullivan Still trying to get your employees to embrace the company wiki and other recent collaboration tools? Meet Charlotte. Ross Mayfield's Weblog: Enterprise 2.0. Harvard Professor Andrew McAfee: I have an article in the spring 2006 issue of Sloan Management Review (SMR) on what I call Enterprise 2.0 -- the emerging use of Web 2.0 technologies like blogs and wikis (both perfect examples of network IT) within the Intranet.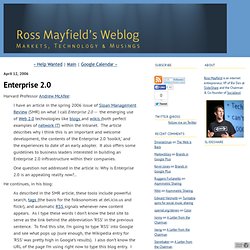 The article describes why I think this is an important and welcome development, the contents of the Enterprise 2.0 'toolkit,' and the experiences to date of an early adopter.
---