Backchannel
My posting last Thursday explained how I was in Athlone, Ireland to deliver a keynote to the Irish Learning Technology Association's EdTech10 conference. As my presentation was to be about social learning, I didn't want to present in the traditional way, but to try and make the experience as social and collaborative as possible, so I blogged and tweeted about the event and invited others to participate.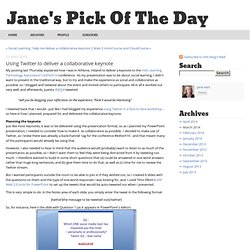 Jane's Pick of the Day: Using Twitter to deliver a collaborative keynote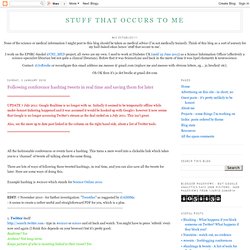 UPDATE 7 July 2011: Google Realtime is no longer with us. Initially it seemed to be temporarily offline while under-bonnet tinkering happened and it was assumed it would be hooked up with Google+ however it now seems that Google is no longer accessing Twitter's stream as the deal ended on 2 July 2011. This isn't great.
Following conference hashtag tweets in real time and saving them for later
#Hashtags and other New Media Tools at the Forum on Education Abroad Conference
This week the Forum on Education Abroad annual conference will take place in Charlotte, North Carolina and I'm sad to say that I am no longer able to attend.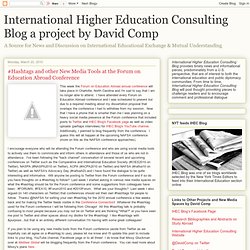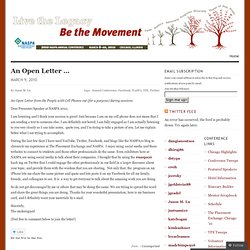 An Open Letter … « NASPA Annual Conference
An Open Letter from the People with Cell Phones out (for a purpose) during sessions
Did you know that your tweets have an expiration date on them? While they never really disappear from your own Twitter stream, they become unsearchable in only a matter of days. At first, Twitter held onto your tweets for around a month, but as the service grew more popular, this "date limit" has dramatically shortened. According to Twitter's search documentation, the current date limit on the search index is "around 1.5 weeks but is dynamic and subject to shrink as the number of tweets per day continues to grow."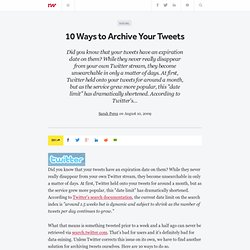 Learning futures: technology challenges 10 - 12 March 2010 The Sebel and Citigate Albert Park Melbourne
IDEA10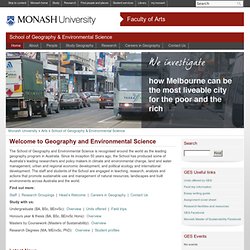 The School of Geography and Environmental Science is recognised around the world as the leading geography program in Australia. Since its inception 50 years ago, the School has produced some of Australia's leading researchers and policy makers in climate and environmental change, land and water management, urban and regional economic development, and political ecology and international development.
Critical Pedagogy and Participatory Learning for Social Transformation:
Jazzing IT up with MERLOT
Second Life Best Practices in Education Conference 2007
5th International Conference on Researching Work and Learning
Welcome
The eChallenges e-2006 Conference took place from 25 - 27 October in Barcelona, Spain. eChallenges e-2006 attracted over 640 delegates from 53 countries, representing government (23%), industry (15.5%), high-tech SMEs (13.5%) and research/academic organisations (48%) and Exhibitors from 17 countries.
EDITURE - Home
: : eFest 2006 : : Call for Participation