Backchannel
Archive. Tweulogy. Googlereader. Jane's Pick of the Day: Using Twitter to deliver a collaborative keynote. My posting last Thursday explained how I was in Athlone, Ireland to deliver a keynote to the Irish Learning Technology Association's EdTech10 conference.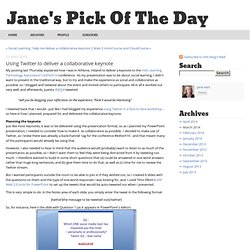 As my presentation was to be about social learning, I didn't want to present in the traditional way, but to try and make the experience as social and collaborative as possible, so I blogged and tweeted about the event and invited others to participate. All in all it worked out very well, and afterwards, Juanita @JFJ24 tweeted: "will you be blogging your reflections on the experience. Think it woud be interesting" I tweeted back that I would - just like I had blogged my experience using Twitter in a face-to-face workshop - so here is how I planned, prepared for and delivered the collaborative keynote. Following conference hashtag tweets in real time and saving them for later. UPDATE 7 July 2011: Google Realtime is no longer with us.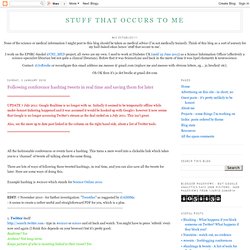 Initially it seemed to be temporarily offline while under-bonnet tinkering happened and it was assumed it would be hooked up with Google+ however it now seems that Google is no longer accessing Twitter's stream as the deal ended on 2 July 2011. This isn't great. #Hashtags and other New Media Tools at the Forum on Education Abroad Conference. This week the Forum on Education Abroad annual conference will take place in Charlotte, North Carolina and I'm sad to say that I am no longer able to attend.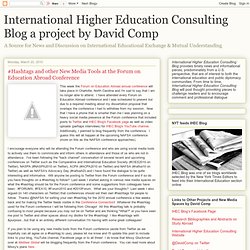 I have attended every Forum on Education Abroad conference and I was scheduled to present but due to a required meeting about my dissertation proposal that overlaps the conference I had to withdraw from my session. Now that I have a phone that is smarter than me I was planning on a heavy social media presence at the Forum conference that included posts to Twitter and IHEC Blog's Facebook page as well as video uploads (perhaps interviews) for IHEC Blog's YouTube channel. Additionally, I planned to blog frequently from the conference. I guess this will all happen at the upcoming NAFSA conference (more on this as the NAFSA conference approaches). An Open Letter … « NASPA Annual Conference. An Open Letter from the People with Cell Phones out (for a purpose) during sessions Dear Presenter/Speaker at NASPA 2010, I am listening and I think your session is great!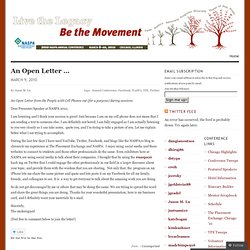 Just because I am on my cell phone does not mean that I am sending a text to someone else. I am definitely not bored; I am fully engaged as I am actually listening to you very closely so I can take notes, quote you, and I'm trying to take a picture of you. 10 Ways to Archive Your Tweets.
Did you know that your tweets have an expiration date on them?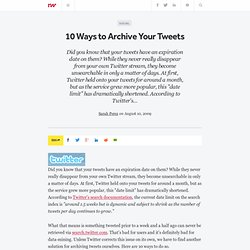 While they never really disappear from your own Twitter stream, they become unsearchable in only a matter of days. At first, Twitter held onto your tweets for around a month, but as the service grew more popular, this "date limit" has dramatically shortened. According to Twitter's search documentation, the current date limit on the search index is "around 1.5 weeks but is dynamic and subject to shrink as the number of tweets per day continues to grow. " What that means is something tweeted prior to a week and a half ago can never be retrieved via search.twitter.com. That's bad for users and it's definitely bad for data-mining. Scriblink - Your Online Whiteboard.
IDEA10. Learning futures: technology challenges 10 - 12 March 2010 The Sebel and Citigate Albert Park Melbourne.
Critical Pedagogy and Participatory Learning for Social Transformation: The School of Geography and Environmental Science is recognised around the world as the leading geography program in Australia.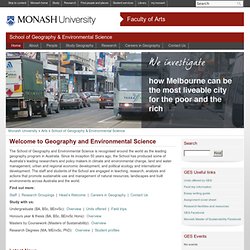 Since its inception 50 years ago, the School has produced some of Australia's leading researchers and policy makers in climate and environmental change, land and water management, urban and regional economic development, and political ecology and international development. The staff and students of the School are engaged in teaching, research, analysis and actions that promote sustainable use and management of natural resources, landscapes and built environments across Australia and the world. Find out more: Staff | Research Groupings | Head's Welcome | Careers in Geography | Contact Us Study with us: Jazzing IT up with MERLOT. Second Life Best Practices in Education Conference 2007. Our great thanks go out to Noel Finney, Wiz Nordberg, Texas Timtam, and Starr Sonic and anyone we missed at SLCN.tv for their tireless efforts, exceptional professionalism, and fantastic coverage of the Second Life Best Practices in Education 2007 International Education Conference.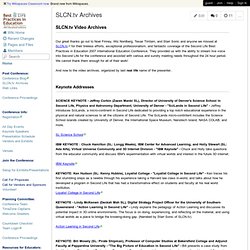 They provided us with the ability to stream live voice into Second Life for the conference and assisted with various and sundry meeting needs throughout the 24 hour period. We cannot thank them enough for all of their work! And now to the video archives, organized by last real life name of the presenter.. 5th International Conference on Researching Work and Learning. Welcome. The eChallenges e-2006 Conference took place from 25 - 27 October in Barcelona, Spain. eChallenges e-2006 attracted over 640 delegates from 53 countries, representing government (23%), industry (15.5%), high-tech SMEs (13.5%) and research/academic organisations (48%) and Exhibitors from 17 countries.
Keynote speakers from Belgium, Netherlands, Romania, Spain and Switzerland shared insights into current applied ICT challenges in government, business and research. eChallenges e-2006 incorporated over 300 presentations from 46 countries and five continents. Continuing a trend of increasing international participation in the eChallenges Community, almost 8% of presenters and 8% of delegates at e-2006 are from outside Europe. EDITURE - Home. : : eFest 2006 : : Call for Participation.
---