Attire
Conference Humiliation: They're Tweeting Behind Your Back - Technology. By Marc Parry Tweckle (twek'ul) vt. to abuse a speaker only to Twitter followers in the audience while he/she is speaking.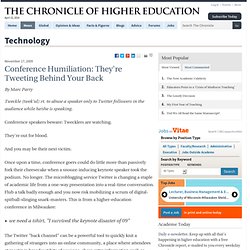 Conference speakers beware: Twecklers are watching. They're out for blood. The challenge of visible twitter at conferences. Last week I gave a keynote at Web 2.0 expo NYC, and as you can see in the photo below, one of the interesting things this year was the twitter feed for the conference was placed on stage behind the keynote speakers.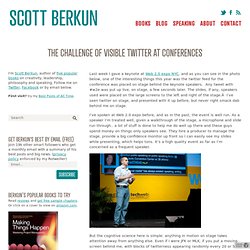 Any tweet with #w2e was put up live, on stage, a few seconds later. The slides, if any, speakers used were placed on the large screens to the left and right of the stage. I've seen twitter on stage, and presented with it up before, but never right smack dab behind me on stage. What not to wear in virtual circles. Academics might party in Second Life, but they can't agree on attire, writes Rebecca Attwood According to stereotypes, academics do not care about their appearance.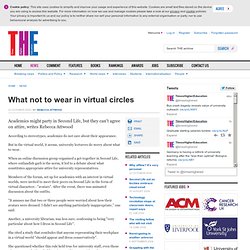 But in the virtual world, it seems, university lecturers do worry about what to wear. When an online discussion group organised a get-together in Second Life, where outlandish garb is the norm, it led to a debate about what constitutes appropriate attire for university representatives. Members of the forum, set up for academics with an interest in virtual worlds, were invited to meet their peers on Second Life in the form of virtual characters - "avatars".
---