Archive
DSPACE - Educational Transformation through Technology at MIT. DSpace™ is a free, open source software platform that allows research organizations to offer faculty and researchers a professionally managed searchable archive for their digital assets.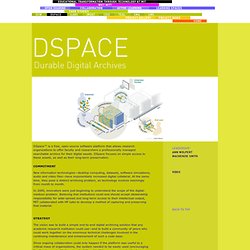 DSpace focuses on simple access to these assets, as well as their long-term preservation. Commitment New information technologies—desktop computing, datasets, software simulations, audio and video files—have exponentially increased digital collateral. At the same time, they pose a distinct archiving problem, as technology evolves seemingly from month to month.
In 2000, innovators were just beginning to understand the scope of the digital-medium problem. LIFE photo archive hosted by Google. Ten Tips About 23 Things - 10/1/2008 - School Library Journal. Sorry, but the article or page you're looking was not found.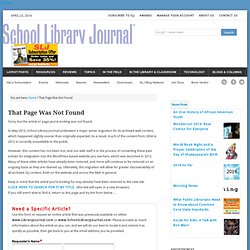 In May 2013, School Library Journal underwent a major server migration for its archived web content, which happened slightly sooner than originally expected. As a result, much of the content from 2004 to 2012 is currently unavailable to the public.
---