Games
Journeys span all of Earth's landscapes and resonate within the human heart, regardless of sex, age, and origin. The latest project from the developers at thatgamecompany tells the tale of a traveler and that traveler's journey. Through remarkable beauty and terrible danger, this short downloadable experience marks one of gaming's most beautiful, most touching achievements.
Journey Review - PlayStation 3 Review at IGN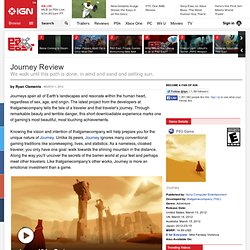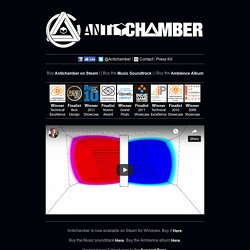 "A game with half of the attention to detail and imagination Antichamber has would be a smash hit - this bare-bones first-person puzzler is one of the most thought-provoking, engaging, and challenging video games ever developed." James Pikover, GamesBeat "Antichamber's puzzles exist in an environment where the laws of nature don't apply, allowing players to think in ways that reality doesn't require."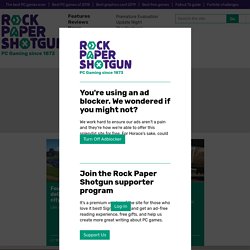 By Adam Smith on April 4th, 2014 at 9:00 pm. Currently in alpha, Gang Beasts is free to download and you should grab it right now. It's a surprisingly nuanced multiplayer beat 'em up that combines playgrounds packed with perilous physics and a control scheme that makes combat a sequence of shoving, grappling and tripping over your own fists. Rounds often come to a halt as the last Beasts standing collapse into a meat grinder together, unsure who is pushing toward and who is pulling away. It's already a wonderful game, both hilarious and intelligently designed, but rather than simply praising its silliness, I've been thinking about how the whole thing works and why it's satisfying, while also looking at the possibilities that the future of jelly-combat holds. Read the rest of this entry »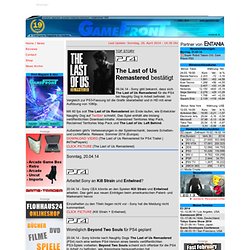 gamefront.de
Call of Duty: Ghosts DLC "Onslaught" offiziell angekündigt / Video Download 14.01.14 - Activision gibt bekannt, dass der DLC "Onslaught" für Call of Duty: Ghosts (PS4, Xbox One, PS3, Xbox 360, Wii U) am 28.01.14 zeitlich exklusiv für Xbox One und Xbox 360 veröffentlicht wird; andere Plattformen folgen später. Der DLC enthält die neue Waffe Maverick, eine Mischung aus Scharfschützen- und Sturmgewehr sowie die erste von vier erzählerischen Geschichten zu "Extinktion" mit dem Namen Episode 1: Nightfall. Die erste Episode beinhaltet zwei neue Charaktere, zwei komplett unbekannte Aliens und eine exklusive Waffe. Dazu kommen noch vier neue Mehrspieler-Karten: 1.