Architecture
Norwegian architecture sur Pinterest. Midvale Courtyard House / Bruns Architecture. Architects: Bruns Architecture Location: Madison, Wisconsin, United States Interior Design: MANI & Company Year: 2013 Photographs: Tricia Shay From the architect.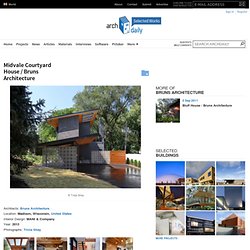 Balancing the introverted nature of a courtyard with the bold personality of an extrovert all while managing matters of privacy, this renovation builds on its solid mid-century roots.
Zines
Utility. Vertical Farming. Public. Skyscrapers. Collective housing. Constructeurs. Solo Houses. Architects.
---