Maps
MapTell Data Depot
Maptell include an astounding amount of GIS data, both for India and other parts of the world. We provide GIS data in different formats as per the client request. We supply digital maps of various Indian cities. This data comprise roads, landuse, points of inerest and a lot more. Maptell believes in providing digital data products at affordable cost to the GIS community.
California Geographical Survey Exploring the world, one map at a time... The Wall Map Closet contains a series of large format computer maps that may be downloaded and reproduced for use on classroom walls.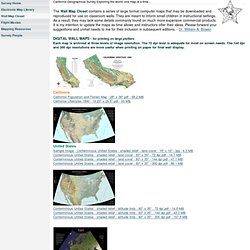 Wall Map Closet
SRTM Documentation - SRTM was the primary payload on the STS-99 mission of the Space Shuttle Endeavour, which launched February 11, 2000 and flew for 11 days. This document serves to help users of the derived DEM data and to better understand the data format. Data is available in 30m & 90m resolution data tiles. FME 2003 X2 in a NutShell - If you work with spatial data on a daily basis then you may be familiar with the product.. if not then you should be! The FME Suite (aka. Feature Manipulation Engine) consists of three main components: a translator, a transformation editor and a viewer.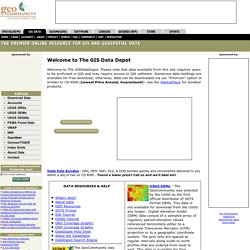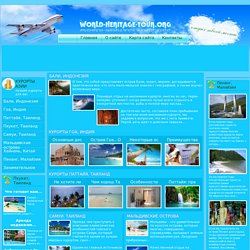 Patrimonium-mundi.org > Earth Patrimonium-mundi.org Introduction
The Origins of Farming in South-West Asia (Andrew Sherratt, 2005) Case Studies 2004-6 1) This sequence of maps illustrates a paper presented at the conference "New Perspectives on the Origins and Spread of Farming in Southwest Asia and Europe" in December 2003, sponsored by the AHRB.
ArchAtlas: The Origins of Farming in South-West Asia
GIS Download Data Server - Downloads
GeoExpress is the industry-standard for creating, managing, accessing and distributing massive geospatial imagery such as aerial photos and satellite images without compromising image resolution or quality. With the trial version of GeoExpress 9 you can use the entire suite of powerful image management tools within the 30-day evaluation period. You may purchase a full license for GeoExpress 9 through any GeoExpress Reseller. To find an authorized reseller in your area, please click here or contact LizardTech's sales department at 1-866-725-5211 or geosales@lizardtech.com. Note: If you wish to upgrade to the full version of GeoExpress, do not download the trial version.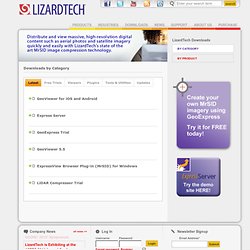 Downloads - Latest Homepage
I love rocks. I love dirt. And I love the maps that show them. A good geology map is visually like a weird hybrid between a Peter Max poster and Jackson Pollock drip painting, but also tells a story spanning several billion years of Earth's history. I've found a few websites where you can find and download geology maps in a variety of formats. The National Geologic Map Database, run by the United States Geological Survey, catalogues maps and geologic names, and also describes what mapping is currently underway.
Rocks And Dirt – Geology And Soil Maps Of The US And World