Philosophy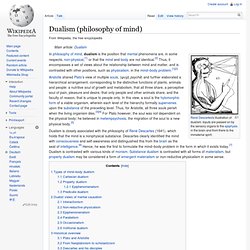 René Descartes 's illustration of dualism. Inputs are passed on by the sensory organs to the epiphysis in the brain and from there to the immaterial spirit. In philosophy of mind , dualism is the notion that mental phenomena are, in some respects, non-physical , [ 1 ] or that the mind and body are not identical. [ 2 ] Thus, it encompasses a set of views about the relationship between mind and matter, and is contrasted with other positions, such as physicalism , in the mind–body problem . [ 1 ] [ 2 ]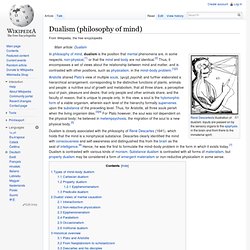 René Descartes 's illustration of dualism. Inputs are passed on by the sensory organs to the epiphysis in the brain and from there to the immaterial spirit.
Interactionalism
Interactionism (philosophy of mind) - Wikipedia, the free encycl
Interactionism is the theory in the philosophy of mind which holds that, matter and mind being distinct and independent, they exert causal effects on one another. As such, it is a type of dualism . It can be distinguished from competing dualist theories of epiphenomenalism (which admits causation, but views it as unidirectional rather than bidirectional), pre-established harmony , and occasionalism (which both deny causation, while seeking to explain the appearance of causation by other means).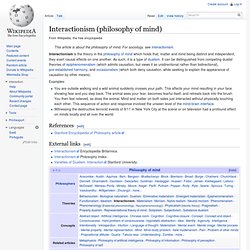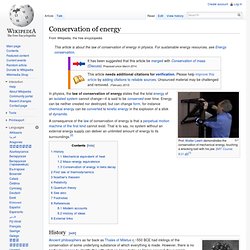 Conservation of energy
The law of conservation of energy , first formulated in the nineteenth century, is a law of physics. It states that the total amount of energy in an isolated system remains constant over time.
J. Kevin O'Regan Laboratoire de Psychologie Expérimentale, Centre National de Recherche Scientifique, Paris, France Talk given at Bressanone on 24 Jan 2001
sensory phenomenology, O'Reagan,K, 2001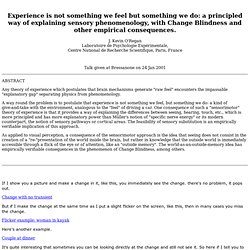 J. Kevin O'Regan