Party Planning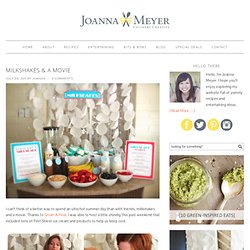 I can't think of a better way to spend an ultra hot summer day than with friends, milkshakes and a movie. Thanks to Smart & Final, I was able to host a little shindig this past weekend that included tons of First Street ice cream and products to help us keep cool. Just look at all the fun. With so many ingredients, flavor combos and creative taste buds in the house, I couldn't help but secretly want to try them all, but let's face it, pool season is still here and I have to watch my girlish figure. I was so happy some tiny guests came along to enjoy the festivities too.
Milkshakes & a Movie | Baked by Joanna
Baked by Joanna
By Joanna Leave a Comment Photo courtesy of Trevor Smith Spring is such a wonderful time in the Valley. Right now, Phoenicians are enjoying brisk mornings, warm afternoons and cool evenings.