Places
EL MOLINO. UN SIGLO DE HISTORIA, DE LLUÍS PERMANYER
But this holiday romance is not all it seems. The woman is white, in her late 50s; the man, black, 18 - and paid for his attentions. The scene - from the controversial new French film, Heading South, which opened this weekend, starring Charlotte Rampling, makes us confront uncomfortable truths about sexuality in a globalised world, and the legacy of colonialism. In the film, an intelligent, provocative take on sex tourism in the late-1970s, Rampling plays Ellen, an American professor, who spends every summer at a private resort in Haiti, where beautiful, muscled black boys are available to the female clientele, mostly affluent single women in their forties, who despair of finding mates through more conventional means.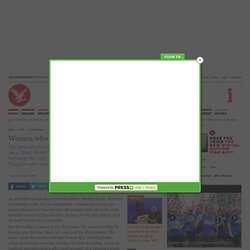 Women who travel for sex: Sun, sea and gigolos - Home News, UK
Experience Cuban culture the most authentic way possible—through its people. On this unique and inspiring program, get acquainted with Cubans in diverse settings, from Old Havana to colonial Cienfuegos. Engage the local people directly in discussions about their lives and work, culture and traditions. Meet with Cuban historians, teachers, students, artists, naturalists, and others, and experience this fast-changing island nation through their eyes. Trip Highlights
Cuba: Discovering Its People and Culture | National Geographic Expeditions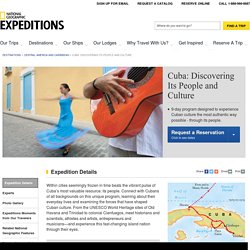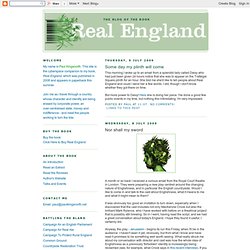 Real England - The Battle Against The Bland
These are the first elections to be held since Real England was published. Everywhere I go, people ask me 'what can I do?' about the many issues highlighted in the book. There are many answers to this, but clearly the ballot box must be at least one imperfect part of the solution, if there is one.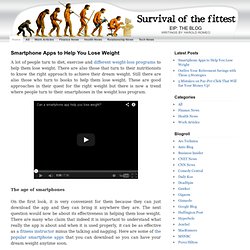 England In Particular
Welcome to this web-site from Common Ground, the charity which encourages you to stand up for your place. Our localities need our constant attention, and our task here is to excite people - as locals or visitors - with ways of getting under the surface of places, offering a way of looking at the local, a kind of evolving celebration along with ideas for effecting change. Please return often, we have made a start, a few ways of navigating the great common wealth of nature, landscapes, buildings, settlements, histories, myths and stories, always on the move, which in their interweaving give us the rich and varied particularity of our surroundings. Books include: Community Orchards Handbook (2008), The Apple Source Book - particular uses for diverse apples (2007), ENGLAND IN PARTICULAR (2006) - an encyclopaedia of LOCAL DISTINCTIVENESS, championing the importance of variegation in the everyday, with England as our example. Click here for the CAMPAIGN FOR LOCAL DISTINCTIVENESS.
taste faversham - join us in our quest for the TASTE OF REAL FOOD!
tastefaversham approved links In the Financial Times on 17 September 2010 Roger Protz included the Railway Hotel in the best 10 pubs with rooms in the country - it is the only pub in the South East that's included. Roger Porttz wrote "This 19th-century hotel is opposite Faversham station and embodies the pomp of the railway age.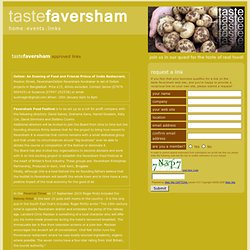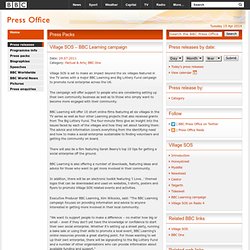 Press Office - Village SOS press pack: BBC Learning campaign
Village SOS is set to make an impact beyond the six villages featured in the TV series with a major BBC Learning and Big Lottery Fund campaign to promote rural enterprise across the UK. The campaign will offer support to people who are considering setting up their own community business as well as to those who simply want to become more engaged with their community. BBC Learning will offer 10 short online films featuring all six villages in the TV series as well as four other Learning projects that also received grants from The Big Lottery Fund. The four-minute films give an insight into the issues faced by each of the villages and how they set about tackling them. The advice and information covers everything from the identifying need and how to make a social enterprise sustainable to finding volunteers and getting the community on board.