Yahoo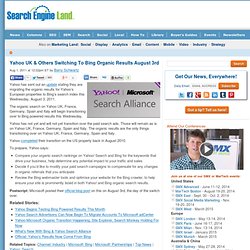 Yahoo has sent out an update stating they are migrating the organic results for Yahoo's European properties to Bing's search index this Wednesday, August 3, 2011. The organic search on Yahoo UK, France, Germany, Spain and Italy will begin transitioning over to Bing powered results this Wednesday. Yahoo has not yet and will not yet transition over the paid search ads. Those will remain as is on Yahoo UK, France, Germany, Spain and Italy. The organic results are the only things transitioning over on Yahoo UK, France, Germany, Spain and Italy. Yahoo completed their transition on the US property back in August 2010.
Yahoo UK & Others Switching To Bing Organic Results August 3rd
Local SEOs have another tool to add to the "citation belt," as it were: MapQuest has announced its own Local Business Center , a place where local businesses can add and/or manage their listing(s) on MapQuest. As the video below shows, the MapQuest LBC functions very much like Google's and Bing's and offers many of the same basic features such as photo uploads, videos, categories and so forth. MapQuest is also offering two premium listing levels at $99 and $399 per year — the latter of which includes distribution of business information to other sites like Yelp, Yahoo Local, SuperPages and others.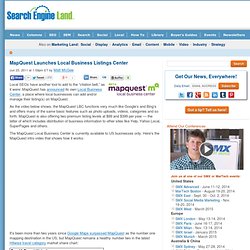 MapQuest Launches Local Business Listings Center
It has been quite some time since Yahoo updated its pioneering and once-dominant local destination, Yahoo Local . Now the company is testing a simplified UI that streamlines the user experience and offers new content (including deals) in a number of cities. Below are screens showing the current and new Local UIs. First the existing site and then the new beta site for Local: Overall the new site is less cluttered and more attractive visually.
Yahoo Experiments With New UI, Content For Local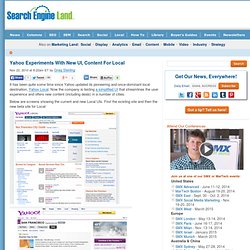 The Yahoo Search Revenue Disaster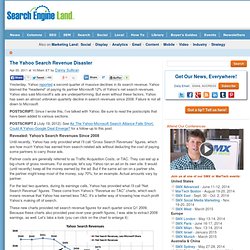 Yesterday, Yahoo reported a second quarter of massive declines in its search revenue. Yahoo blamed the "headwind" of paying its partner Microsoft 12% of Yahoo's net search revenues. Yahoo also said Microsoft's ads are underperforming. But even without these factors, Yahoo has seen an almost unbroken quarterly decline in search revenues since 2008. Failure is not all down to Microsoft.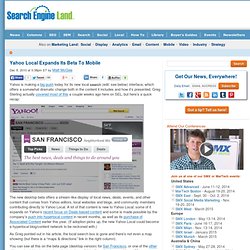 Yahoo Local Expands Its Beta To Mobile
Yahoo is making a big push today for its new local search (edit: see below) interface, which offers a somewhat dramatic change both in the content it includes and how it's presented. Greg Sterling actually covered most of this a couple weeks ago here on SEL, but here's a quick recap: The new desktop beta offers a stream-like display of local news, deals, events, and other content that comes from Yahoo editors, local websites and blogs, and community members contributing directly to Yahoo Local. A lot of that content is new to Yahoo Local; some of it expands on Yahoo's recent focus on Deals-based content and some is made possible by the company's push into hyperlocal content in recent months, as well as its purchase of Associated Content earlier this year. (If adoption picks up, the new Yahoo Local could become a hyperlocal blog/content network to be reckoned with.)
Where Is Search Going: Yahoo's Sashi Seth
I'm continuing my look at what search might look like in the future with this first part of a fascinating interview with Shashi Seth, the Senior VP of Search Products at Yahoo. With the recent Bing arrangement, Yahoo now finds themselves in an interesting position in the search game. Now that Yahoo search results are powered by Bing's algorithm, the company can move its focus from maintaining a web index to how the information is presented to the user. It's analogous to a car manufacturer farming out the drive train assembly to a partner so they can focus on body styles and interiors. So, my first question for Shashi is now, in the new search ecosystem, what does the Senior VP of Search do at Yahoo?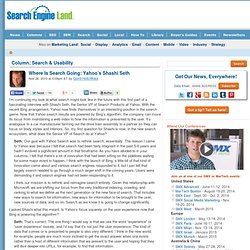 Yahoo Reveals Secrets Of "Search Direct" Alogrithm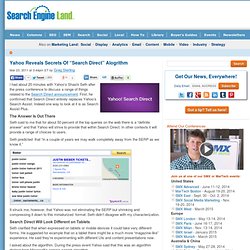 I had about 20 minutes with Yahoo's Shashi Seth after the press conference to discuss a range of things related to the Search Direct announcement . First, he confirmed that Search Direct entirely replaces Yahoo's Search Assist. Indeed one way to look at it is as Search Assist Plus.
October 1, 2010 Yahoo Local Filled with Locksmith Spam I look at Yahoo Local rarely and report on it even less. However, my lack of attention to it doesn't mean that Locksmiths are not interested in playing there. And while this is old news, with Google Places having become a difficult place for them to play, locksmiths have moved on (for the most part) to the next easy pickings. I am sure that the exposure is not as great but a small fish is better than no fish at all and one can still marvel at their audacity.
Yahoo Local