PPD
Given a vast array of options an advertiser has when it comes to Yellow Pages (pay per call or discounts if you bundle). What is currently working or not working for you in print advertisement? Return on ad spend positive, negative or staying the same? | Think You Have To Outsource SEO To An Expensive Firm? 5 Things You Can Do In House. Once upon a time, I had a lot of faith in SEO firms.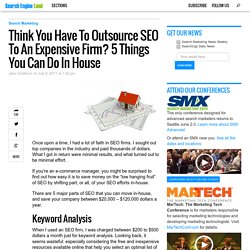 I sought out top companies in the industry and paid thousands of dollars. What I got in return were minimal results, and what turned out to be minimal effort. If you're an e-commerce manager, you might be surprised to find out how easy it is to save money on the "low hanging fruit" of SEO by shifting part, or all, of your SEO efforts in-house. There are 5 major parts of SEO that you can move in-house, and save your company between $20,000 – $120,000 dollars a year. Sales Force Effectiveness in 2010: The Yellow Pages : Simba Information. The yellow pages industry has gone through dramatic changes over the past decade as the industry grew from $13.7 billion in 2000 to a high-water mark of $16.75 billion in 2007 before plummeting to a projected $14.92 billion in 2010.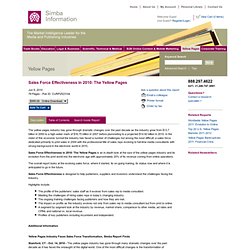 In the midst of this economic turmoil the industry has faced a number of challenges but among the most difficult: a sales force dedicated primarily to print sales in 2000 with the professional title of sales reps evolving to full-time media consultants with strong background in the electronic world in 2010. Sales Force Effectiveness in 2010: The Yellow Pages is an in-depth look at the size of the yellow pages industry and its evolution from the print world into the electronic age with approximately 20% of its revenue coming from online operations.
10 Reasons why Google will buy Research In Motion. As a long-time BlackBerry enthusiast and proud Canadian, I want to see Research In Motion turn around the negative sentiment that is now stalking them in the media and gain back the sales momentum and brand popularity they have enjoyed in the past.
But should this challenge prove too difficult in the months ahead or simply take too long to execute in the face of an eroding market cap, what will become of RIM? I've pondered this question a lot in recent weeks from every conceivable angle, and it was sitting on a patio sipping my fourth pitcher of Sangria on Canada Day that I concluded Google will buy Research In Motion. It won't be Microsoft - they've made their bet on Windows Phone and Nokia (and the Steve Ballmer at BlackBerry World thing was little more than a PR stunt). It won't be Co-CEOs Jim Balsillie and Mike Lazaridis buying back the company and going private again (though I'm sure they'd love to do that).
It won't be any other company seriously stepping in with a bid. As Deal With Twitter Expires, Google Realtime Search Goes Offline. Yesterday, we reported that Google Realtime Search had mysteriously disappeared.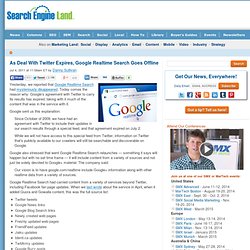 Today comes the reason why: Google's agreement with Twitter to carry its results has expired, taking with it much of the content that was in the service with it. Google sent us this explanation: 5 Best Practices For Kicking Off A Global Search Program. Last time, we looked at the 9 Key Considerations for selecting an International Search Agency.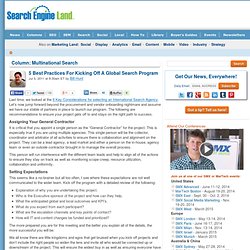 Let's now jump forward beyond the procurement and vendor onboarding nightmare and assume we have our stable of partners in place to launch our program. The following are recommendations to ensure your project gets off to and stays on the right path to success. Assigning Your General Contractor It is critical that you appoint a single person as the "General Contractor" for the project. What Does Google+ Add To The Social Graph? Is there anything else that this week's column could have been about?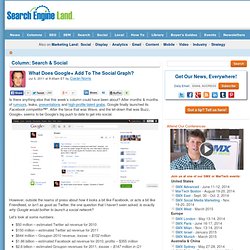 After months & months of rumours, leaks, presentations and high-profile talent grabs, Google finally launched its Facebook competitor™*. After the farce that was Wave, and the let-down that was Buzz, Google+ seems to be Google's big push to date to get into social. How to Write a Market Requirements Document. Once the product planning process is complete and a product is approved, you will need a Market Requirements Document.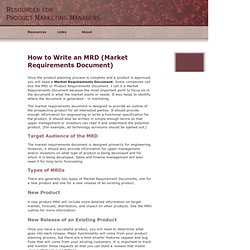 Some companies call this the PRD or Product Requirements Document. I call it a Market Requirements Document because the most important point to focus on in the document is what the market wants or needs. It also helps to identify where the document is generated - in marketing. The market requirements document is designed to provide an outline of the prospective product for all interested parties. Creative Tips For Link Building On A Shoestring Budget.
Since "how much would it take me to get started?"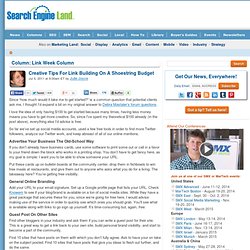 Is a common question that potential clients ask me, I thought I'd expand a bit on my original answer to Debra Mastaler's forum questions. I love the idea of only having $100 to get started because many times, having less money means you have to get more creative. Study: One Facebook fan equals 20 extra website visits.
---